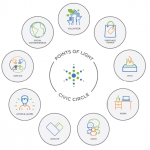 Civic Life Today: the State of Global Civic Engagement
Points of Life, May 2022
This research by Points of Light considers the state of global civic engagement. The civic actions that dominated around the world were a mix of traditional and non-traditional engagement pathways, demonstrating people's desire to engage in whatever way they could as COVID-19 affected more traditional ways of engagement.
Globally, the top three civic actions taken, as defined by Points of Light's Civic Circle, were listening and learning, using your voice and volunteering. Volunteering is still among the most important civic activities, with 48% of global respondents volunteering by intentionally helping someone within the last 30 days.