We are a very generous nation. Nearly half the country gives their time and effort to help others in their communities. Join us this National Volunteer Week I Te Wiki Tūao ā-Motu, 21-27 June, to celebrate volunteers and how our communities are stronger when working together!
To help you plan and celebrate NVW2020 we've put together a range of ideas and resources. Te Hua o te Mahi Tahi I The benefit of working together.

Celebrating all volunteers
National Volunteer Week honours the collective energies and mana of all volunteers in Aotearoa. They grow our people, open minds, open hearts and create joy! The power and potential of volunteering, Mahi Aroha and social action shines through at times when our communities are stretched and challenged. New Zealand's COVID-19 response has highlighted courage and kindness in uniting together.
Ideas and resources for NVW2020
NVW2020 – Firstly, check out nationalvolunteerweek.nz for everything you need to know about NVW2020. You can download all NVW copy and resources there. 
Te Hua o te Mahi Tahi I The benefit of working together

 – wherever possible, use the NVW2020 theme as the basis for all your activities and celebrations.

Collaborate 

– connect with local community groups to create a combined NVW2020 campaign (shared effort, more impact!).

Thank you cards for your volunteers – even better if they're handmade. You can download and print thank you cards here.
Be the chalk of the town 

– create NVW hearts and quotes all over the pavements. You could ask your volunteers for quotes about why they volunteer and who they volunteer for – help inspire others to consider volunteering!

Certificate of recognition 

– Use NVW as an opportunity to formally acknowledge your volunteers.

Good news stories 

– contact local and national media with stories about your volunteers (even better when they're told from the perspective of your volunteers).

Share your volunteer stories with VNZ

 – VNZ love receiving good news stories about volunteers and they can be shared on social media, VNZ's blog or volunteering stories page.

Use NVW2020 to encourage regular interactions between your whole team

 – If you're a volunteer involving organisation, consider how regular team interactions between volunteers and paid-staff help strengthen relationships. Create a team to enter online quiz nights or other community activities.

Ask your volunteers 

– if you want to really do something your volunteers will appreciate, give volunteers options to choose from regarding how they'd like to be acknowledged.
>> View the full list of NVW2020 ideas  >> Watch NVW2020 video
Team activity: Wave your appreciation!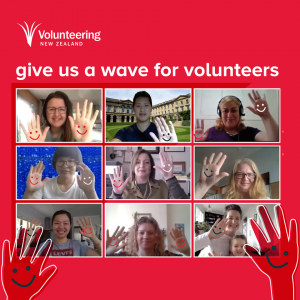 Following on from Volunteering Australia's successful 'Wave your appreciation for volunteers' campaign, VNZ invites your team to give volunteers a wave!
1. Simply screenshot a photo of your team waving on Zoom (or take individual
photos) and draw smiley faces on your hands.
2. Post them on social media with a thank you message to volunteers! #waveforvolunteers
We would love to see all your NVW2020 activities on social media. Don't forget to tag Volunteering New Zealand and use #NVW2020 and any of these hashtags: #mahitahi #teamwork #tautoko #support #whakamiha #appreciate #volunteers #thankyou.
>> Learn more: National Volunteer Week I Te Wiki Tūao ā-Motu