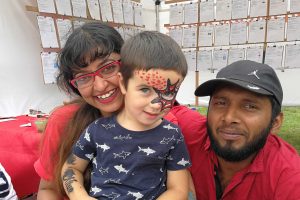 When Shashi Kariyawasam came to New Zealand from Sri Lanka in 2018, she'd never done any volunteering. That soon changed.
The 29-year-old volunteered at Special Olympics and got involved with Multicultural Whangarei for a resettlement programme at the Whangarei Migrant Centre.
"I worked as a coordinator at the Special Olympics, so I would go to trainings and practices and help cheer up the athletes and help them," Shashi says. "I also worked at the Migrant Centre on a new project, helping to empower new migrants gain employment".
Having left Sri Lanka to get a better education, Shashi fell into volunteering through her course at NorthTec.
"On the first day at NorthTec they dragged us to the Volunteering Northland Centre and told us we could volunteer as a firefighter, we could cook, garden".
She says she loves volunteering for the sense of satisfaction she gets out of helping people.
"At the end of the day, I just love the feeling of having done something good and accomplishing something."
But volunteering has served another purpose for Shashi – making friends and meeting people. "Earlier I didn't know anyone here, and now they all know me so that's really good."
Continuing her volunteering efforts, Shashi has also helped Volunteering Northland at community events, and both her and her husband Manoj have enjoyed volunteer face-painting at the Pasifika Fusion Festival in Whangarei. Other volunteer roles included being an Area Coordinator for Pink Ribbon Street Appeal and supporting the Cancer Society – Relay for Life. Shashi is now continuing the good work of Rotary International as one of South Rotary Whangarei's newest members.
Shashi's efforts in the Whangarei community are really making a difference.
Original story by: Staff reporter of the Northern Advocate.
Story sent to us by: Volunteering Northland
Interactive Volunteer Stories Map Launched
For NVW, Volunteering New Zealand has launched an interactive map of volunteer stories from across Aotearoa. This map is filled with stories from volunteers throughout Aotearoa, New Zealand. This map celebrates the contribution of volunteers in their communities throughout Aotearoa. It aims to inspire people to engage in volunteering, Mahi Aroha and social action and to realise the benefits of weaving their communities together through their actions.