We need to hear from Volunteer Involving Organisations about the impact of COVID-19.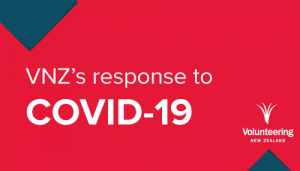 At VNZ we know these are uncertain and unprecedented times for the community and voluntary sector, for volunteers and that there will be an impact on volunteering. We also know that community action will be a key part of the solution to many of the challenges that our communities and organisations will face.
VNZ has developed a framework to collect feedback from Volunteer Involving Organisations and we're interested in collating weekly insights into the impact of COVID-19 on the volunteering community.
Can you give us a snapshot on how your Volunteer Involving Organisation is doing?
Are you interested in regularly reporting to VNZ with updates?
>> What we need is your feedback once a week (like the questionnaire above). It should only take approx 5-15 minutes per week.
>> Please contact michelle@volunteeringnz.org.nz if you are interested.
THANK YOU. Your input is vital and will help VNZ:
be your voice to government
create and provide the best resources for your needs
study emerging challenges, opportunities, and trends in the sector.
Aroha ki te tangata, tiaki i te whenua, manaaki i ngā kaumatua – Love the people, care for the land, look after our elders – Dame Anne Salmond.