Community Sector COVID-19 Impact Survey
Time to shine, time to take stock, time to shape our futures.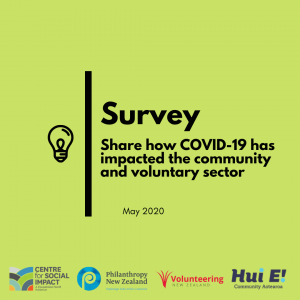 It's time to shine a light on our collective contribution to community wellbeing, to take stock of what is needed, and to shape our future.
Fill out our survey on how COVID 19 has impacted your organisation in the community and voluntary sector to help us better support you with recovery and shape the future of our sector.
The survey is being conducted independently by the Centre for Social Impact, which is a centre of excellence to support the community and philanthropic sectors. This survey has been co-designed and distributed as a partnership with Hui E! Community Aotearoa, Volunteering New Zealand and Philanthropy New Zealand.
Can you contribute feedback on a regular basis?
VNZ has developed a framework to collect feedback from Volunteer Organisations and we are collating regular insights on the impact of COVID-19 on volunteering and volunteers. What we need is your feedback once a week. It should only take approx 5-15 minutes per week.
>> Please contact solmaz@volunteeringnz.org.nz if you are interested.
THANK YOU. Your input is vital and will help VNZ:
be your voice to government
create and provide the best resources for your needs
study emerging challenges, opportunities, and trends in the sector.
Aroha ki te tangata, tiaki i te whenua, manaaki i ngā kaumatua – Love the people, care for the land, look after our elders – Dame Anne Salmond.