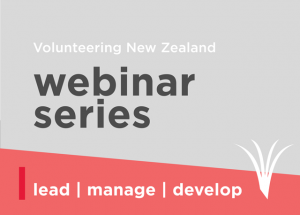 In 2018 we will be running a series of webinars based around emerging research and current issues facing volunteering both in New Zealand and internationally.
The world of volunteering is constantly evolving and as a leader of volunteering in New Zealand VNZ is taking up the challenge to facilitate and distribute new research, ideas and more on the world of volunteering.
This series will offer short 30-minute episodes delivering a mixture of presentation and conversation style information. Our guests presenters will be leading national and international speakers, exploring topics on volunteering to help you better lead, manage and develop your volunteer workforce.
Speakers will be experts in the field of volunteering and be sharing their knowledge and expertise in a relaxed and educational webinar presentation. This will be co-presented by a VNZ team member.