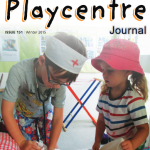 Volunteering: A choice or responsibility?
Katene, Rahui. Playcentre Journal, 2010.
This document contains a speech made by Rahui Katene, Member of Parliament for Te Tai Tonga, on the importance of every family's contribution to our children's and communities' successful future. The speech also delves into how the volunteer base is supported.

An online copy of this document is currently unavailable.