New for 2023, Volunteering New Zealand brings you Ako Kōtui – Networking Series: lunchtime sessions to connect, share and network. Each month will see guests sharing their experience of relevant issue AND an opportunity for participants to discuss and share.
Learn about research and practical ideas, share the challenges and successes of managing volunteers, and build your resilience with a like-minded network.
Register now for our next session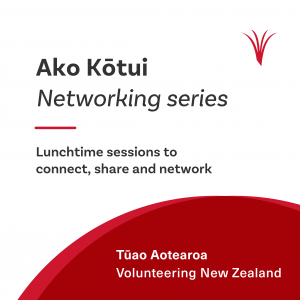 Youth Volunteer Well-being
Thursday 6 July 1-2 PM – FREE Online
This online panel discussion will be on the topic of encouraging sustainable volunteering amongst youth volunteers.
Young people are facing increasing pressures – from the cost of living crisis, climate anxiety, to living with diverse and intersecting identities. Volunteering New Zealand's Alice Mander will be joined by experienced volunteers and advocates:
Joanna Li (Volunteer Wellington, Student leader)
Laura O'Connell Rapira (community leader and activist, former director of Action Station)
Neo Kenny (Volunteer Coordinator at InsideOUT Kōaro),
to discuss how volunteer organisations and youth themselves can make sure they are looking after their own well-being as well as the well-being of the organisations they volunteer for.
To register for this free session, please visit here.
Recognition of Volunteers – 27 April
Volunteer managers from six organisations share their practices for recognising and rewarding volunteers.
Deep Dive into the State of Volunteering Report 2022 – 24 March
In this session we heard from Research Director, and SOV 2022 report writer Johann Go on key insights from the 'State of Volunteering in Aotearoa New Zealand 2022 Report'.
Volunteer Management Systems 2 March 2023
Hear from a panel of volunteer-involving organisations and their experiences of Volunteer Management Systems. Panel members include: Gail Marshall, co-founder Community Comms Collective; Carey Buck, volunteer coordinator for IHC Friendships Programme Wellington and Hutt Valley; and Jo Guest, contract event volunteer coordinator, Wanaka. Facilitator: Heidi Quinn, Volunteer Management Lead, Volunteering New Zealand.