New for 2023, Volunteering New Zealand brings you Ako Kōtui – Networking Series: lunchtime sessions to connect, share and network. Each month will see guests sharing their experience of relevant issue AND an opportunity for participants to discuss and share.
Learn about research and practical ideas, share the challenges and successes of managing volunteers, and build your resilience with a like-minded network.
Register now for our next session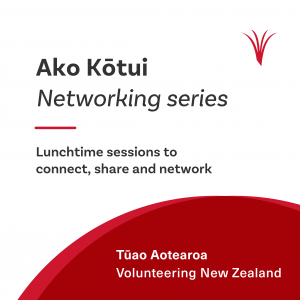 Recognition of Volunteers
Thursday 27 April 12 – 1pm – FREE Online
How do you recognise and reward your volunteers? Learn from organisations who do it well, and share your ideas for best practice.
We'll hear from: Volunteering Auckland, New Zealand Football and SuperGrans. You'll come away with new ideas to thank volunteers, and resources you can use during National Volunteer Week.
Deep Dive into the State of Volunteering Report 2022 – 24 March
In this session we heard from Research Director, and SOV 2022 report writer on key insights from the 'State of Volunteering in Aotearoa New Zealand 2022 Report' from the lead researcher Johann Go. You will have the opportunity to ask any questions too.
Volunteer Management Systems 2 March 2023
Hear from a panel of volunteer-involving organisations and their experiences of Volunteer Management Systems. Panel members include: Gail Marshall, co-founder Community Comms Collective; Carey Buck, volunteer coordinator for IHC Friendships Programme Wellington and Hutt Valley; and Jo Guest, contract event volunteer coordinator, Wanaka. Facilitator: Heidi Quinn, Volunteer Management Lead, Volunteering New Zealand.