Living Standards Dashboard updated to include volunteering indicators 
Treasury has launched a refreshed Living Standards Framework (LSF) Dashboard, which now includes indicators and measures relating to volunteering.
In April 2022 Caralee McLiesh, Secretary to the Treasury launched the paper Trends in Wellbeing in Aotearoa New Zealand, 2000-2020 (Wellbeing Trends Report) and a refreshed LSF Dashboard.
Volunteering New Zealand is excited to see it includes new indicators relating to volunteering are now included in the LSF Dashboard.
DOMAIN
Indicator
Measures
Work, care and volunteering domain
Volunteering
Percentage of adults who reported having done voluntary work in the previous four weeks
Involvement in the community

 

Definition: Proportion of young people who report helping others in the neighbourhood or community (eg, helping out on the marae or at church or belonging to a volunteer organisation)
Civil Society
Non-profit operating surplus  
Definition: Operating surplus for the non-profit sector as a proportion of income
One of New Zealand's areas of strength is in the work, care and volunteering domain. We have high employment, high job satisfaction, low unemployment, and the highest rate of volunteering in the OECD.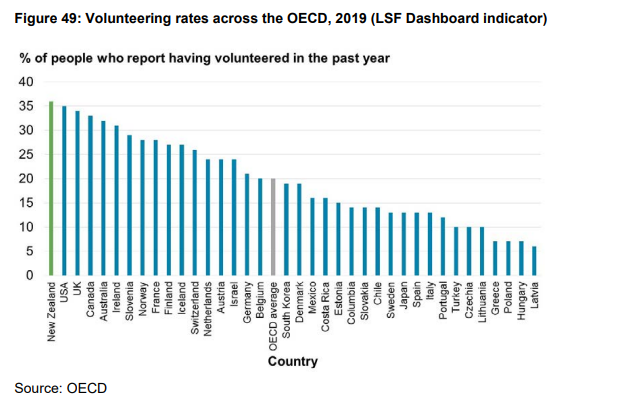 Other key information highlighted in these reports include that volunteering appears more common among people aged 35-74 and includes both direct volunteering and volunteering for an organisation.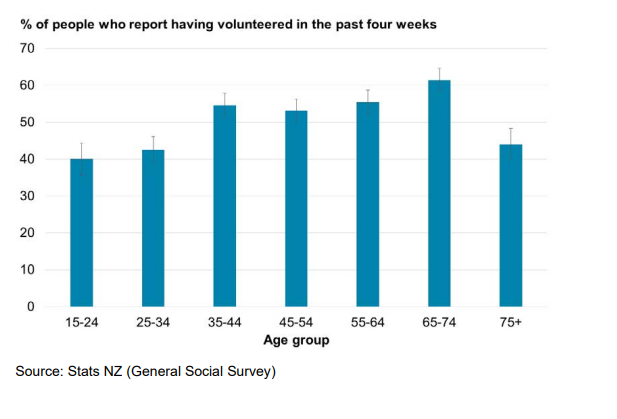 The Wellbeing Trends Report investigates how wellbeing in New Zealand compares to other countries, how wellbeing has changed over time, and how wellbeing is distributed across various groups of the population.
The updated LSF Dashboard includes new indicators on the health of institutions, and measures that reflect child wellbeing-such as child poverty in the income domain, childhood injuries in the safety domain, and caring and support for young people in the redefined family and friends domain.
The Wellbeing Trends Report and updated LSF Dashboard are part of a large programme of work the Treasury is doing in the lead-up to the publication of Te Tai Waiora: Wellbeing in Aotearoa New Zealand 2022, a new requirement under the Public Finance Act. Publication of Te Tai Waiora is expected in November 2022.