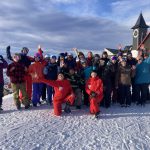 Every winter season volunteers help to run the Cardrona Adaptive Snow Sports Programme at Cardrona and Treble Cone Alpine Resorts by supporting guests and sharing a passion for snow sports.
The programme caters for people with various physical, cognitive and sensory abilities. The goal is to make snow sports accessible for everyone. Volunteers support guests, facilitate and provide a safe environment, so everyone can enjoy the snow and the mountain. This could mean assisting in a lesson or just skiing or riding with someone who needs a second pair of hands to be able to access the mountain.
"Without volunteers, we would not be able to run the programme," says Kat Mueller. With more than 350 sessions being delivered by volunteers in winter 2022, the programme has seen one of its busiest seasons ever. This was a great team effort, however, we'd like to highlight and recognise a few of our volunteers who have gone above and beyond with their commitment to help":
Tomas Cervenka is one of our longstanding volunteers who has volunteered with the Adaptive Programme since 2019. His calm manner and excellence in bucketing and tethering are highly appreciated by his guests. Last season, he volunteered 31 times.
Julian Warren loves sharing his passion for snowboarding with our adaptive guests. He volunteered 30 days last season, which included a lot of guiding visual impaired skiers.
Since Lois Martin has retired from being a physiotherapist she has dedicated her time to volunteer for the Adaptive Programme. Lois spent 27 days assisting especially guests with cognitive impairments enjoy the snow and the mountain.
Murray Walker is new to volunteering with the Adaptive Programme, but in no way new to skiing. He is an avid skier who helps out in any way he can, on snow and off snow. He helped 18 days last season.
Local Alison Jarvis has been a huge help volunteering for 18 days. Her caring and kind personality are well regarded by our adaptive guests and Ali's ability to help across all disciplines have made her an integral part of the team.
For enquiries contact Kat at adaptive@cardrona.com