Ki a Maatau Kaumatua aroha Kua Pahure nei, Ka Mahara matou ki a koutou ake ake — To our beloved kaumatua who have passed on, we will remember you all ake ake.
"Arm in arm, we are knitted together."
Those are the words of the Te Puna Waiora Ukulele Group – a rōpū of kaumatua who have come together to spread joy; to sing, to play the ukulele and to just have fun!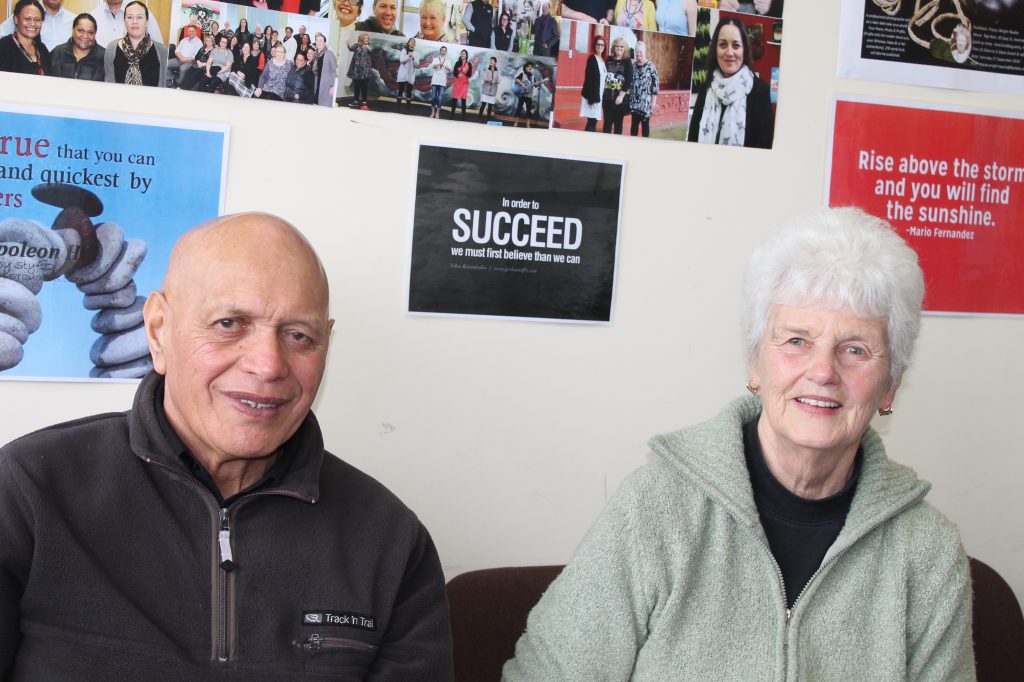 It started at Tauira Tautoko Student Support Centre at the Southern Institute of Technology in 2012. Tauira Tautoko Kaimahi Marcia Te Au-Thomson, on behalf of Nga Kete Matauranga Pounamu CEO Tracey Wright-Tawha, had a korero with the late whaea Nan Ngatai, who was interested in a bit of awhi at the centre. Nan was intent on bringing waiata and joy with her and from the moment she arrived she would jam away on her ukulele with her friend Whaea Isabel.
Whaea Wini, who was teaching raranga at both Te Wānanga o Aotearoa and Southland Institute of Technology, heard the pair playing through the (clearly very thin) walls and told Aunty Billie. Before long a large group was beginning to form at Tauira Tautoko each week. They now sing and play and have a great time together, and generally enjoy a cup of tea while they're at it. There are no rules!
"We just love to sing and be together. We're like one big family and this is the home where we can all gather," one member says.
At one stage there were 21 members – the youngest was 57 and the oldest was 92. Everyone had ukuleles and they were rocking the house!
People are always hearing about the group from others and with no criteria to join, new members are often showing up for a sing-along.
The group meet and perform at Tauira Tautoko every Wednesday around lunch time, but they also enjoy entertaining the public at rest homes and community events such as festivals and the Bluff Triathlon. The group has even braved some wet, wintry days with rugs draped over their legs while performing on the streets in Windsor at market days.
They say the ukulele is easy to play – there are tons of songs with just four notes. It doesn't matter whether you're a top notch singer or a seasoned ukulele player – the group holds no bias. It's more about the music, the comradery, the company of others and just a good catch up over the teacups.
"We just all love to sing and be together. If you want to play, then play. If you want to sing, then sing. It doesn't matter, as long as you're enjoying it," one member explains.
The group says the crowds seem to enjoy their performances and often sing or clap along.
Nga Kete Matauranga Pounamu CEO Tracey Wright-Tawha says that the beloved kaumatua offer more than the joy of music.
"They demonstrate love and care for fellow man, share themselves, connect people and create a place of unity. They give generously of their time and energy and are completely selfless. I love being in their company and always feel better for the opportunity."
Te Puna Waiora Ukulele Group
Invercargill
Interactive Volunteer Stories Map
This story was shared as part of our interactive map of volunteer stories from across Aotearoa, which we launched during #NVW2019. This map is filled with stories from volunteers throughout Aotearoa, New Zealand. This map celebrates the contribution of volunteers in their communities throughout Aotearoa. It aims to inspire people to engage in volunteering, Mahi Aroha and social action and to realise the benefits of weaving their communities together through their actions.