Employee Volunteering can bring challenges and reward. The findings of UK researchers Joanne Cook and Jon Burchell, as set out in this article Bridging the gaps in employee volunteering (EV): Why the third sector doesn't always win"  explores the four major challenges facing Not-for-profits when engaging or using Employer Sponsored Volunteering. We outline some of their findings below. 
Employee Volunteering
To start off with, it's important to have a clear understanding of what Employee Volunteering is. Employee Volunteering can be defined as the contribution of time, talent, skills and resources by the workforce for a wider societal benefit. Some organisations have Employee Volunteering Schemes where by paid employees are given work time and/or payment by their employer to volunteer with another organisation such as a charity.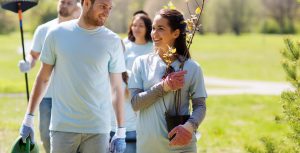 'Win-win' for all?
These schemes are often identified as a classic 'win-win' situation for both corporates and non-profits, however this article questions the 'win-win' scenario of Employee Volunteering, arguing that research largely ignores the role of non-profits engaging in these relationships and their challenges in this relationship.
Cook and Jon Burchell identify four 'gaps' which place considerable constraints on the reach and impact of Employee Volunteering.  It demonstrates the importance of not simply presuming a 'win' for non-profits when thinking of pursuing Employee Volunteering as a new workforce strategy.
Arguably, Employee Volunteering is often marketed as corporate social-responsibility, yet without adequate planning and management, Employee Volunteering can be a major undertaking with limited results. Others may view the volunteering, at best, as team-building and for others as 'encouraged' manual labour. What is the solution? Make sure you have done your gap analyses, ideally with the support of your local volunteer centre or other agency e.g. Help Tank. This will enable you to maximise the opportunity of Employee Volunteering and ensure greater success for all.
Feel you need additional support for your own Employee Volunteering scheme? Please get in touch with your local Volunteer Centre Network.