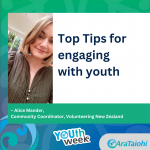 By Alice Mander
Young volunteers can bring a lot to an organisation, but we know that some organisations aren't sure how to engage with youth. After speaking with four awesome youth volunteers, I've used their experiences to create some top tips for working with young people in volunteering organisations.
Authenticity
Young New Zealanders are skilled, passionate, and insightful. We have a lot to bring to the table, beyond just being a youth voice. We don't want to feel like we're valued just for our age but, rather, as a whole person. If possible, having young people as staff or on your boards is one way to show that you are serious about youth engagement. It also has a trickle down effect – if we can see ourselves in your organisation, we are more likely to want to join in.
"There's so many things that young people can give, and it's not just because they are a number, or you need us to be the 'youth voice'. There's so many skills that we have, apart from our age." – Mardiya Abdulaziz
"More young people, or a balance of young people, is a good way to start. Like attracts like."- Neo Kenny.
Diversity
Recognising and respecting the diversity of young people is critical, we are not a monolith. Be welcoming to all young people, regardless of their background, or your assumptions about their abilities. Young people will feel more comfortable in your organisation if we know that we can show up as our full selves. The beneficiaries of your organisation's work will also benefit from the diversity of your volunteers.
"I think it's just simple things – not asking for people's legal names unless you have to, having space for preferred names, having space for pronouns but not making it mandatory, giving space to share pronouns if you're meeting new people. It's not hard to make things rainbow friendly! Be open, take a couple extra steps." – Neo Kenny, InsideOUT Kōaro.
"I definitely have had to be careful what roles I put myself into because attitudes of some people can be hurtful, and it can be challenging if someone brings their own experiences or beliefs in but it's misinformed, or they haven't spoken to me." – Lauren Dewhirst, disabled volunteer.
Flexibility
Most young people have multiple obligations, on top of volunteering. Being pulled in too many directions can lead to burnout. We are more likely to join organisations which allow flexibility and recognise competing interests. Meet youth where we are – avoid minimum hour expectations, allow us to volunteer in ways which align with our skills and passions, and encourage your volunteers to prioritise their own wellbeing.
Appreciation
Young people, like all people, want to feel appreciated. Many are also embarking on new careers, or trying to find paid employment. Appreciating and valuing their volunteering is one way you can give back to them. This may look like offering to be a referee for job applications, giving koha after milestones, or celebrating them on social media. All of this contributes to young people's growth and development.
"For me, with Youthline, I am learning quite valuable life skills. The way I sold it is that it is a benefit to not only the people I talk to on the Helpline but it is also sharpening my tools and skill sets which will only benefit my employer," – Ethan Tauevihi-Kahika on how he balances employment and volunteering.
Read the stories of these youth volunteers