This is a story of some quiet, unassuming acts of kindness…in a quiet, unassuming street…in a quiet, unassuming village…in a quiet, unassuming city in Aotearoa NZ. It's a story of how mahi aroha, doing work just for love, contributes to people being AOK, especially when the chips are down.
On a Sunday morning in the middle of Level 4 lockdown, a couple came out their front door to find an uplifting good morning message written in chalk on the footpath by one of the kids across the road. Easter weekend, every household in that street found Easter treats in their letterbox – "Have an EGG-cellent Easter… just a little longer in your shells." A young family started up a street email tree offering to send the kids out to help with anything that needed doing. Non-vulnerable neighbours shopped for vulnerable neighbours, or in one case for a neighbour who had lost her job and didn't have a car. The local electrician dropped a packet of someone's favourite treat—gingernuts—on their doorstep. Texts and Facetime calls flew through the fibres. Meat deliveries, vegetable deliveries, milk deliveries, baking, tools, garden produce, and maybe a few bottles of gin were (safely) shared and swapped around the street. And that's before we count all the teddy bears in windows. All informal acts of mahi aroha helping make sure that we were all AOK, in an Aotearoa of Kindness.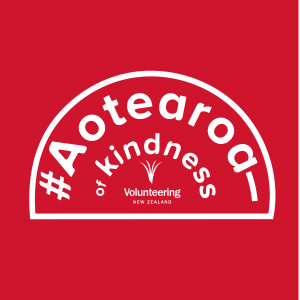 But these were no random acts of kindness, they weren't done just because Jacinda asked us to be kind. Mahi aroha is not random—it is given with thought, care and intent because we believe in growing people, opening minds, opening hearts, creating joy. It's in our kindness DNA, we all have it in us.
Because the mahi aroha didn't stop there. Within 10 minutes walk of that street are three community gardens, many parks, and beautiful bush walks and bike trails. The village resonated all day and night with native birdsong thanks to the mahi aroha of those working in a local bird sanctuary, local park volunteers doing planting and weeding, and the Predator Free traps in gardens and bush all over the neighbourhood. When not in lockdown, there is a school, library, scout hall, playcentre, kindergarten, community centre, all operating within a few blocks of each other—the heart of the community. And there are sports clubs, music clubs, a weekend market, exercise and fitness classes. All with mahi aroha at their heart, work done for love.
Now, this probably sounds so idyllic it can't possibly be a real place. It is. It's in Brooklyn, Wellington. But maybe it's your place. If you really look around you, where can you see that mahi aroha has touched your suburb, your street, your house?  And if it hasn't, what are you going to do about it?
Because we know very well that we're not perfect. And that fact, quite rightly, bothers us. There are things that go on down under that are unsafe, that are unfair, that are unkind, that unbalance us and the environment. So, how do we come to terms with that? Through mahi aroha, putting in effort out of love. We've proven time and again that it's in our DNA, we know we have it in us. Let's not leave it up to those who we think have time. And let's not leave it up to chance. This is our moment to re-think, re-prioritise, revive what we know is already in us and make sure that we're #AotearoaOfKindness.
With love from the team at Volunteering New Zealand.
#AotearoaOfKindness. Share stories of acts of kindness you know of that have contributed to an Aotearoa of Kindness. Or print off a #AotearoaOfKindness badge to thank someone for a specific act of kindness.