During National Volunteer Week 2019, we were lucky to have Thuy Tran speak at the launch of our Te Rautaki mō Whanaungatanga: A National Strategy to Support Volunteering for Recent Migrants at Parliament. Thuy was one of the volunteers we spoke to, to help inform our strategy and we were inspired by her speech at the event.
To recognise International Volunteer Day 2019 (5 December) we're sharing Thuy's speech, which resonates with the campaign theme 'Volunteer for an Inclusive Future – E whai wāhi ai te katoa, kia tūao te tū'. This theme is focused around SDG 10 and the pursuit of equality – including inclusion – through volunteerism.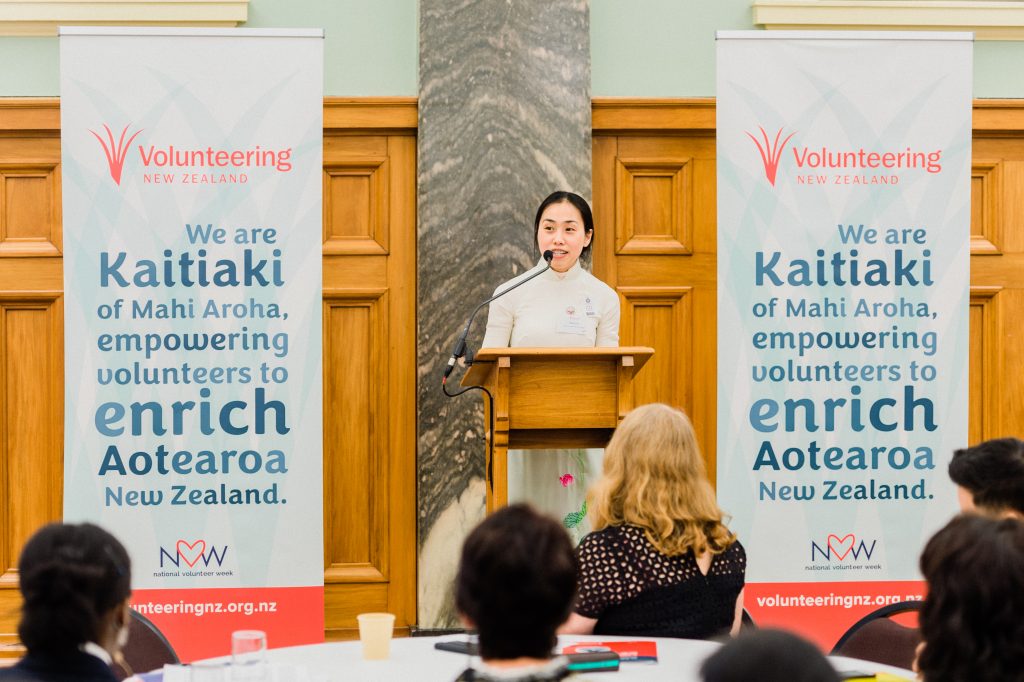 Tēnā koutou katoa,
My name is Thuy, a Vietnamese volunteer from English Language Partners New Zealand. It is my honor to be here to join the effort of building a community of peace and sustainability.
I started volunteering in 2004 at a pagoda where nuns offered shelter to disadvantaged children. My university professor – Dan White conducted a project to engage university students in community work. I will forever remember the very first day at the pagoda. There were about 20 children from the age of 0 to 5.
I stood near a hammock where an infant was lying. She was happy, playful, but looked very pale and skinny. She was having a severe case of heart disease and would survive up to only two months. I kept asking myself "Why two months?". She had no choice in the matter, but I have a choice. I did not know exactly what I could do to help, but I came anyway, and do all I can.
Volunteering has transformed my life
Volunteering has transformed my life, being grateful for a life given and being responsible to what I am offered. Volunteering has brought out the positive pieces in me. The choice to come to NZ was a difficult one when my daughter was just one year old at the time. I had been waiting for this opportunity for 10 years in pursuit of a master's degree at Victoria University of Wellington.
We didn't know at all what it was going to be like here, so only me and husband came. We arrived in New Zealand in a rush, at the peak time of house hunting and travelling. We did not know anybody here. With a limited budget, we went for more than 40 viewings and none worked out for us. We did subletting and it was two days away from the ending-day. The hotels were full, accommodation lodges were full. Then, I received a phone call from an unknown Vietnamese lady offering us a place. I did not know her, and neither her friends. Till then, I truly understand the importance of networking.
How I can meet new people? how I can connect? The answer was volunteering. I started searching online and decided to join English Language Partners Wellington and I have been loving it. What impressed my husband and me was the welcoming feeling, the positive energy that came to us right away and kept us moving forwards.
Knowing our story, Emma Stein – the programme coordinator introduced us to the Job Mentoring Service and my husband finally found a job after 6 months. Then, we got to know Conservation Volunteer, reaching out to our Vietnamese community, and here we are with Volunteering New Zealand.
It is a great feeling of seeing how people value my feedback, wanting to hear from me, asking how I am doing, and helping me to do the job the best I can. I have learned what it really means "no hierarchy" from the work I am volunteering and embrace it.
We are grateful for the full support of those services. We are very happy with life here when our daughter loves her Victoria Kids School very much as I love my Victoria University. And my husband is very happy with the job he is doing at I-lign Software company and his amazing colleagues.
Now I am joining Job Mentoring Service to seek for a job while continuing to volunteer. In volunteering, I am lifted up through hard times. For every connection has been made, I am empowered.
Together, we strongly support each other in a race that everyone wins and no one is left behind.
He tangata o Aotearoa. Thank you New Zealand for giving us a wonderful adventure.
Tēnā koutou katoa.
This is Thuy's original speech and we thank Thuy for giving us permission to share.
Learn more about International Volunteer Day 2019 here