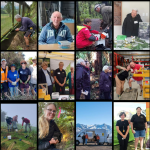 We want to take a moment to recognize and express our deepest gratitude to the
incredible volunteers of Sanctuary Mountain Maungatautari. Your unwavering
dedication and tireless efforts have made a profound impact on the preservation and
restoration of this remarkable sanctuary.
To the hardworking Admin team, thank you for your behind-the-scenes support,
organizing logistics, and ensuring smooth operations. Your administrative skills are
crucial in keeping everything running smoothly.
To the passionate Aviary team, your commitment to caring for the birds and providing
them a safe haven is truly inspiring. Your knowledge and nurturing efforts help
protect the diverse avian species that call this sanctuary home.
To the dedicated members of the Cambridge Market Stall team, your presence at
local markets spreads awareness about Sanctuary Mountain Maungatautari and
helps generate much-needed support. Your dedication to educating the community
about conservation is invaluable.
To the Custodians, your role in maintaining and protecting the sanctuary's unique
biodiversity is commendable. Your hard work ensures that the natural habitats thrive
and continue to provide a refuge for countless plant and animal species.
To the enthusiastic Events team, thank you for organizing engaging activities and
events that connect people with nature. Your efforts foster a sense of community and
appreciation for the sanctuary's incredible ecosystem.
To the passionate Gofa team, your commitment to eradicating pests and invasive
species is essential for the long-term sustainability of Sanctuary Mountain
Maungatautari. Your work plays a vital role in maintaining the delicate ecological
balance.
To the dedicated Kiwi team, your tireless efforts in kiwi conservation are making a
real difference. Your work to protect these iconic birds and their habitats helps
ensure their survival for generations to come.
To the nurturing Nursery team, thank you for your care and cultivation of native
plants. Your efforts in propagating and growing indigenous species contribute to the
restoration and regeneration of the sanctuary's natural environment.
To the diligent Pest Monitoring team, including cannister fillers and trap maintainers,
your commitment to monitoring and controlling pest populations is crucial. Your work
helps protect the sanctuary's native flora and fauna from invasive threats.
To the hardworking members of the Planting and Releasing team, your hands-on
involvement in planting native trees is instrumental in restoring the sanctuary's
ecological balance.
To the dedicated Restoration team, thank you for your continuous efforts to restore
and rehabilitate damaged areas within the sanctuary. Your work plays a significant
role in recovering the ecosystem and ensuring its resilience.
To the passionate Species team, your expertise in researching and monitoring the
sanctuary's diverse wildlife and reintroducing endangered species to their natural
habitat is invaluable. Your work helps inform conservation strategies and contributes
to our understanding of the ecosystem.
To the knowledgeable Tour Guides, thank you for sharing your love and knowledge
of Sanctuary Mountain Maungatautari with visitors. Your guided tours provide
educational experiences that inspire a deeper appreciation for the sanctuary's
natural wonders.
To the diligent Track Cutting team, your hard work in maintaining and creating trails
allows visitors to explore and experience the sanctuary's beauty firsthand. Your
efforts contribute to making the sanctuary accessible to all.
To the warm and welcoming Visitor Centre Hosts, thank you for providing visitors with a friendly and informative experience. Your dedication to customer service helps
create a positive and memorable visit for everyone.
Your collective efforts embody the spirit of community, conservation, and
stewardship. Without your selfless contributions, the preservation and protection of
Sanctuary Mountain Maungatautari would not be possible.
We extend our heartfelt thanks to each and every one of you for your time, energy,
and passion. Your commitment to safeguarding this sanctuary for future generations
is an inspiration to us all. Together, we are making a difference