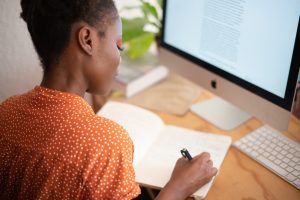 Be Inspired. Be Involved!
New Zealand is a nation of avid volunteers, with 21.5% of New Zealanders undertaking volunteer work. Each year they volunteer for 159 million hours, contributing $4 billion to New Zealand's gross domestic product.
Typically when we think of volunteering, we think of an opportunity that requires an ongoing commitment that can last for months or years. But if people cite having less time to offer these days to volunteering, how can they find ways to meaningfully contribute without committing long-term? Enter microvolunteering.
'It should be the goal of microvolunteering outlets to enable volunteers to put their idle time to use, rather than asking them to set aside some of their productive time for volunteering.' (Michael Mersiades, October 2018). 
What is microvolunteering? 
Microvolunteering is a small task or project, that is convenient, quick to undertake and often (thanks to the prevalence of smartphones and access to the internet) done online. It's a concept that's been around for years, and is referred to by various terms, including 'byte-sized volunteering', 'episodic volunteering' and 'virtual volunteering.' Any volunteer-involving organisation can incorporate microvolunteering into their organisation.
For volunteers: examples of micro and virtual volunteering 
Sign a petition online. Check out ActionStation – New Zealand's people powered petition platform.

Donate computer processing time – e.g. setting up a Facebook event, designing a logo, finding content for an organisation's online newsletter.

Promote a cause or charity on social media – share their updates and information.
Sign up to an online pen pal service or caring caller phone service.
Take part in Inclusive Aotearoa Collective's kaupapa of creating and building belonging and help create a more inclusive Aotearoa, New Zealand.
Contact your local Volunteer Centre or online volunteering opportunity website to support you in finding virtual volunteering roles.
For organisations: micro and virtual volunteering resources and ideas
Contact your local Volunteer Centre or online volunteering opportunity website to support you in finding volunteers for virtual volunteering roles.
Benefits of microvolunteering for volunteers and organisations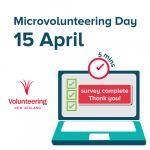 Microvolunteering opportunities have the potential to attract a wider diversity and greater number of people, including those who would otherwise not have the time or inclination to get involved.

It can give the 'doer' a taster of an organisation, which can serve as a pathway to longer term volunteering. It's also a great way to maintain the motivation of those looking to volunteer longer term, whilst waiting for formal processes (such as security or reference checks) to be completed. 
Microvolunteering can also offer access to the expertise of skilled volunteers, including those who may be far away or employed full-time. 
For volunteer involving organisations keen to learn more, there are some great tips online to help you set up a microvolunteering action. Try this guide from the UK's 'Help from Home' initiative here. 
Remember to tag Volunteering New Zealand in social media so we can see how you're taking part in Microvolunteering Day! Also, use the international hashtag #Microday. 
Heidi Quinn
Volunteering Advisor
Volunteering New Zealand