Cam Burrow loves the sea and spending time at the beach with mates during lifeguard training or patrols as a volunteer surf lifeguard. He also loves the fulfilment that comes from a rescue, and seeing his hard work successfully guide his organisation to grow stronger.
Surf Life Saving NZ has 74 clubs throughout the country, and relies on volunteers to run summer patrols and year-round emergency response services. Over the past year, surf lifeguards have rescued almost 700 people in trouble in the water nationwide. The lifeguards at St Clair, which is where Cam volunteers, carried out four of those rescues.
Giving your time back to your community to help make it better is one of the undervalued secrets to a satisfying life, Cam reckons — with huge paybacks for the volunteer.
"We can always say we're busy in our own lives, but if we all say that, then none of those organisations we want will be there for us when we need them."
Cam joined the Nippers surf lifesaving children's programme with his friends when he was about 11, and later trained to become a lifeguard.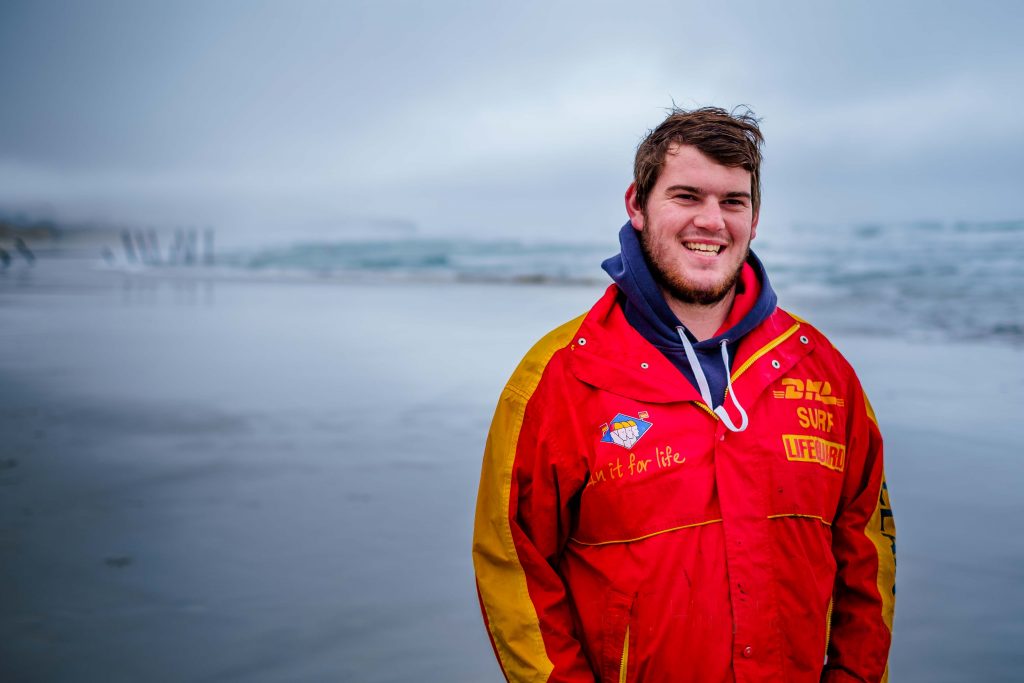 At 15, he was asked to join the governance committee at St Clair Surf Life Saving Club to represent the younger cohort of lifeguards. He realised he enjoyed seeing the impact that behind-the-scenes decisions made for the club's development, and so last year, at 22, he stepped up to become the chairman of the club. He is now chairman of a group for all of the Otago and Southland Surf Lifesaving NZ clubs, too.
Cam says he still enjoys the time working alongside his mates on regular summer patrols, at training and during emergency call-outs.
"I just love the water, being in the water – even though Dunedin has some of the coldest water in the country.
"But I just love spending all that time in the water with your friends, doing something good."
He says Surf Life Saving NZ is a great organisation to be part of. He has made friends throughout the country because of it, and clubs are always keen to have more volunteers.
"You don't have to be the fastest swimmer or the best runner to be a good lifeguard. Surf lifesavers offer so many things, through communication with the public and vigilance, first aid and coordinating with other rescue agencies.
"Or on the administration side of things, there's so much you can get out of it, and there's so much need for different talents and approaches – there's endless limits to what you can achieve. We are quite a welcoming organisation, and we do have a need for everyone."
By volunteering their time to help save lives in the sea, surf lifeguards also get the chance to develop their own skills.
"A lot of it is good skills for everyday life. I'm an accountant, and I use a lot of the skills I developed through surf lifesaving every day," Cam says.
Volunteering for the club has developed his leadership, communication and listening skills, knowledge about how organisations work and how to go about making changes.
Cam says he's proud of his club, and the developments it has made recently under his leadership.
"It's really satisfying to see the work you put in produce good outcomes, and achieve something valuable.
"Time's a valuable thing, and if you can give your time to help others it not only helps so many others, it rewards you too."
Cam Burrow
Surf Life Saving New Zealand
Interactive Volunteer Stories Map
This story was shared as part of our interactive map of volunteer stories from across Aotearoa, which we launched during #NVW2019. This map is filled with stories from volunteers throughout Aotearoa, New Zealand. This map celebrates the contribution of volunteers in their communities throughout Aotearoa. It aims to inspire people to engage in volunteering, Mahi Aroha and social action and to realise the benefits of weaving their communities together through their actions.