This is the Chief Executive's report from the 2020 Annual Impact Report, available here.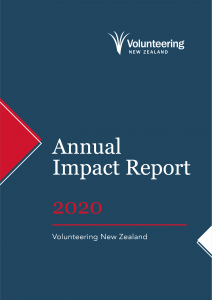 I was absolutely thrilled to be appointed to the role of Chief Executive of Volunteering New Zealand in September 2019 after two years in the organisation in a mix of communications and leadership roles.
There were a number of steps in my journey to Volunteering New Zealand, but what has woven me into it is the people, its purpose and kaupapa.
With nearly 50 percent of people – when you include formal and informal volunteering – contributing time, service, mahi aroha or volunteer labour to their communities, there is a lot of mahi to do to achieve our purpose.
This year we have universally experienced rapid change, unprecedented challenges and uniquely complex and changing operating environments. I would like to celebrate all that our team has achieved this year, and how we achieved it.
Volunteering New Zealand's kaupapa guides how our team works to achieve our purpose. The kaupapa that drives us is:
Manaakitanga: We care, we nurture, we grow.
Whakawhanaungatanga: We build connections, and meaningful and enduring relationships.
Inspire by example: We are bold and enterprising.
High expectations: We set the bar high for ourselves and others.
We always strive to nurture and grow our connections with our member organisations, and the volunteer centre network, as well as other organisations within the sector, and of course October 2020 government. This year we started by examining our stakeholder priorities and implementing a stakeholder engagement framework. We also reviewed our membership process and communications, investigating and implementing process improvements for our members.
We were bold and enterprising during the pandemic lockdown. We quickly pivoted where and how we worked. We delivered communications, alert level guidelines and resources to support organisations, and to protect volunteers. We cared for volunteers and the environments that they that volunteered in.
The effects of the pandemic lockdown demanded that we worked even more collaboratively with our existing networks of members, the volunteer centres, and other sector groups and peak or umbrella bodies.
During alert levels 4 and 3 we facilitated twice weekly meetings with the volunteer centre network, and we forged a new relationship with the National Crisis Management Centre. This enabled us to collaboratively ensure that volunteers and volunteering was protected during the pandemic.
We worked collaboratively, with leadership, on multiple fronts. We worked with three other national organisations to deliver a national wide Covid-19 survey of 1500 organisations.
We set the bar high for ourselves with our State of Volunteering Report. We surveyed volunteers for the first time and heard from over 1500 volunteers. We still delivered our report, despite the challenges of Covid-19. A report that has volunteer voices and experiences woven into the findings, and themes. And findings and data captured just before Covid-19.
Despite the challenges, we had an amazing National Volunteer Week!
Other highlights this year for me include working with communications volunteer, Moerangi Vercoe. She delivered a road map for kick-starting our external communications engagement with iwi and hapū. This enabled us to start making 8 Annual Report 2020 some changes internally. From there we worked collaboratively with Ngātahi Communications to build relationships to enable us share some of the phenomenal mahi aroha stories.
One last highlight for me was speaking at the IAVE international conference in Thailand, where I was invited to speak on our work on the Recent Migrant Volunteering Strategy and our work with New Zealand Search and Rescue volunteer organisations.
This has been a year like no other, and it has been a privilege to lead Volunteering New Zealand at such an incredible time in our history. I want to sincerely thank our team at Volunteering New Zealand – each of you have played a vital part in our success and how we have achieved our purpose.
I would like to take this opportunity to thank the board of Volunteering New Zealand for their strategic leadership and vision and the support they have given me during my first year as Chief Executive. I would like to especially acknowledge Helga Wientjes who has provided significant leadership over the last six years to Volunteering New Zealand. I also thank James Lord and Gail Marshall for the immense contributions they have made in the past three years. It has been a privilege to work with all three of you.
Ngā manaakitanga Michelle Kitney Chief Executive Volunteering New Zealand