Now, more than ever, we need to understand and support the value of volunteering, and the infrastructure, that enables volunteers to enrich Aotearoa New Zealand.
Released in February, The New Zealand Support Report, identified volunteering as a critical input into the sectors operating model within Aotearoa New Zealand.
This has been further underscored by data recently released by Statistics New Zealand. There are 115,000 community organisations and charities. In 2018, 89 percent employed no staff at all.
More accurate measuring of NPIs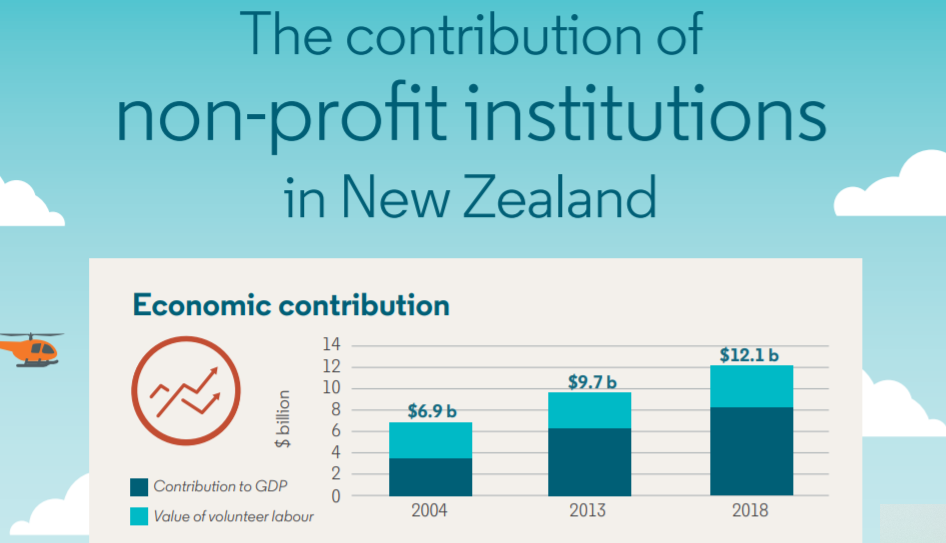 In the middle of Alert Level 4, Statistics New Zealand released the Non-profit institutions satellite account: 2018.
Traditional measures of GDP do not account for the value of volunteer labour (or formal unpaid work) for non-profit institutions (NPIs). The NPISA extends traditional GDP to include this contribution, and so includes a more accurate measure of NPIs on the economy.
Key findings – Non-profit institutions satellite account: 2018:
115,0000 Not Profit Institutions (NPIs) contribution to GDP in 2018 was $8.1 billion, this was 2.8 percent of GDP. In 2013 they contributed $6.2 billion (2.9 percent).
The value of voluntary labour (or formal unpaid work) in New Zealand's NPIs was estimated to be $4 billion in 2018, compared with $3.5 billion in 2013.
Volunteering hours have remained stable at 159 million per annum. The value of this volunteer labour is estimated at $4 billion.
There has been a reduction in the overall number of people volunteering, from 1.2 million, to just over 1 million.
In 2018, 89 percent of NPIs did not employ staff.
These figures do not include informal volunteering, volunteering that happens outside of an organisation.
You can access the full report from our Volunteering Statistics Page.
Volunteering New Zealand believes that reliable and accurate data about volunteering is essential for effective leadership, advocacy and support of the community and voluntary sector. We are committed to advocating with and on behalf of the sector with quality data that highlights the value of volunteering in all its forms.