VNZ Strategic Plan 2019 – 2022
Recognise
the value of volunteering
    

Nurture and champion the mana of volunteering in its many forms

    

Recognise, support and measure the contribution of mahi aroha
Advocate
for inclusive, ethical, supported and impactful volunteering
    

Use experience, practice and research to inform advocacy

    

Evaluate the impact of our advocacy efforts and outcomes
Lead
volunteering in Aotearoa
    

Engage and collaborate with members, government, Iwi/Māori, communities, business and other stakeholders

    

Be an informed opinion leader

    

Support best practice volunteering

    

Grow and diversify our sphere of influence
When the VNZ board and I came together to plan for the next three years we started with the findings from our survey out to the sector. This survey was carried out in order to gather feedback and there were just over one hundred respondents including members and non-members. VNZ's new vision and mission provided another guide for the strategic plan.
What came through really clearly was that VNZ's greatest potential lies in our influencing role. The new strategic plan from 1 July 2019 focuses on influence for maximum impact – for greater recognition of the value of volunteering, and for inclusive, ethical, supported and impactful volunteering. This means a larger focus on advocacy as an organisation, as well as growing, strengthening and supporting our network.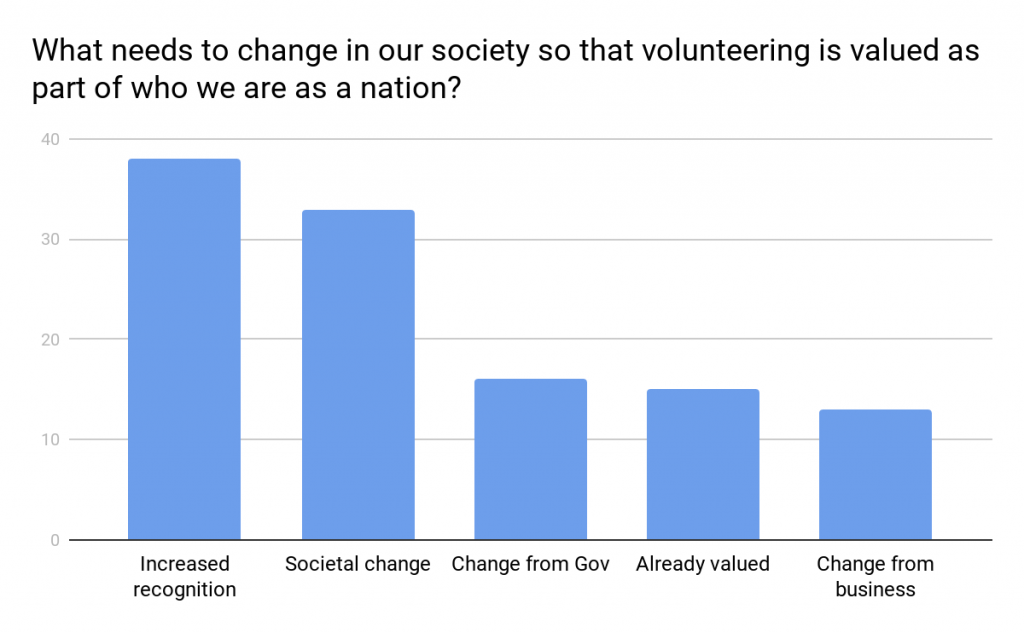 Recognition was a big theme in the survey results. While some felt that volunteering is already valued as part of who we are as a nation, the vast majority think there is still a way to go to recognise, value and measure the contribution of volunteering. Respondents talked about both societal and individual recognition, with VNZ's role being at the societal level.
Societal value – changing how we talk about volunteering can influence its perception but material changes within central and local government's policy towards volunteering within government will also be decisive

Individual recognition – certificates and recognition events enable volunteers to demonstrate their work to others (friends, family, employers, media)
"Maintain the position that volunteers are as important as paid workers, to the economy, to the organisations they assist, and the wellbeing of society"
"Removing the words 'just' and 'only' a volunteer for a start-off"
Along with recognition, societal changes to make sure that people have time and space to volunteer were mentioned. Ideas ranged from including volunteering in the curriculum to a shorter working week.
"Official recognition that volunteering contributes to the economy"
Within volunteering, recognition was again a theme, with a need to better value volunteering and the work of leaders of volunteers. More diversity towards inclusive volunteering for all was also mentioned, along with how to support a diversity of ways to engage in volunteering to meet the growing trend of short-term episodic volunteering.
"In their strategy under inclusiveness I would like to see added to 'We recognise and value the diversity of all expressions of volunteering and all who offer to volunteer."
In terms of VNZ's role there were lots of new ideas, but about 80% of respondents thought that VNZ shouldn't drop anything.
"Keep on keeping on – you do very well."
"Embrace, improve and increase empowerment of what you are doing."
This endorsement of our current work is fantastic, but along with the other findings points to a broader issue of need across the sector that is not matched with the way the sector is resourced and supported. As a small organisation ourselves, we will focus on accessibility of our training and resources rather than one-on-one support, and increase opportunities to connect with each other. This will be alongside our advocacy work to increase support for volunteering.
"Work through organisations – VNZ is too small and ill-resourced to make the change required."
"Provide ongoing professional development for volunteer-involving organisations. Continue to promote good practice guidelines for the sector and oversee that they are implemented."
"Would like to see an on-line resource library (templates, instruction video's, ready-for-use event-planning documents, etc) for everything related to volunteering."
We really value the time that people put into responding so thoughtfully to the survey are are excited to work with you all for the next three years and beyond towards inclusive, ethical, supported and impactful volunteering that is valued and recognised.
If volunteering was valued as part of who we are as a nation then:
Everyone would have the opportunity to participate in their community in a way that is meaningful to them
People would have a great experience when they volunteer
Volunteer-centred best practice would be widespread
Organisations, communities and people would make time and space to volunteer in a well-resourced sector
We would understand and measure the impact of volunteering and mahi aroha in Aotearoa New Zealand
We would honour Te Tiriti o Waitangi in the way that we work as kaitiaki of mahi aroha.