In 2016, I moved to New Zealand with my family to start a new life. Moving countries meant that my family and I had to start everything from scratch; new jobs, new friends, new experiences, new struggles.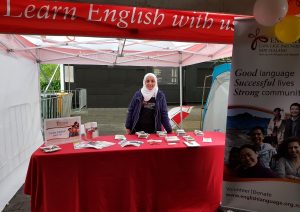 Before coming to New Zealand, I used to work as an ESOL teacher at a primary school in UAE and I spoke English fluently, so I didn't find it hard to make new friends or apply for jobs. But there were many things that I didn't know – where to buy things, where to take my children during weekends. I also felt unproductive and bored, I needed to do something with my spare time.
I came across English Language Partners' website while searching for English teaching jobs in New Zealand. English Language Partners needed volunteer home tutors to support former refugees and migrants with English and settlement in New Zealand.
I met a lot of migrants in New Zealand who struggled to make friends or find jobs because of their English skills. I also realised that volunteering was an opportunity to build my CV in New Zealand. I immediately applied to attend one of English Language Partners' tutor training courses.
After completing my tutor training, I started teaching Jasmine, a Korean learner who had been living in New Zealand for 10 years at the time. Jasmine knew a lot about New Zealand and Auckland in particular, and had three children like me.
I was surprised by the amount of things that I have learnt from Jasmine. I was not only teaching Jasmine, but I was also learning from her!
I learnt a lot about Korea and the Korean culture from Jasmine. I love Korea and I plan to visit it one day. I also learnt a lot about life in New Zealand from Jasmine – where to go during weekends, and where to buy things. Jasmine knew where to take the kids and which places to visit in New Zealand. So she was a great help for me too. Both of us were migrants, so we could easily relate to each other's feelings, experiences, struggles and wins.
I didn't have any experience teaching adults before volunteering with English Language Partners. Volunteering has helped me build my work experience in New Zealand, an opportunity that has opened new doors and horizons for me. Volunteering made me feel productive and an important part of the New Zealand society. Helping a person achieve their goals and build their confidence for further study and employment made my whole volunteering experience worthwhile.
Volunteering has made me realise that we all need each other, that members of New Zealand society are all unique and different, like the pieces of a puzzle. When each member of the society contributes a piece of the puzzle, the puzzle gets completed. Likewise, when we all work together, we create opportunities and make a difference.
Reem Hassan
English Language Partners, Auckland