Volunteering in a Gisborne op shop was not something Paul Topp ever imagined doing, but after his life took an unexpected turn, he couldn't imagine doing anything else.
Despite being an experienced quad bike driver, Paul had a freak accident one day while riding — falling into a steep ravine, resulting in severe injuries. Luckily, St John paramedics came to his rescue.
It took Paul a long time to recover, and the painful and slow recovery period was difficult for him. He could only spend his days sitting still, whereas before, he had always led an active life and enjoyed the outdoors. Six months after the accident he was hospitalised again with multiple infections and complications from medication.
Feeling depressed and isolated, Paul spoke to his GP and ACC worker about his situation. They suggested volunteer work, so Paul contacted the Gisborne Volunteer Centre. The volunteer centre team raised the possibility of giving back to the organisation that had been there for Paul during his time of need, and soon, Paul was helping out in his local St John op shop.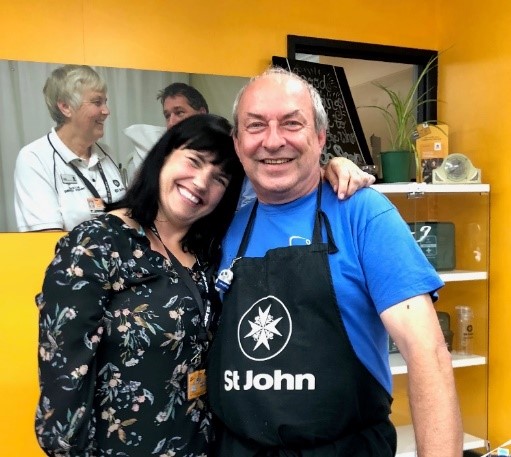 Although it may have been easier to give money, Paul believes giving his time was a more meaningful way to support St John. The profits from St John's Gisborne op shop go towards local projects like youth programmes, purchasing new ambulances and health shuttles, and buying new equipment, allowing St John to continue its life-saving and life-changing work in the Tairawhiti community.
Paul had volunteered before on various committees, but this felt different and more personal.
"I felt like part of the team from the first day when I was leaving, and everyone said, 'See you next Friday!'  They wanted to see me and I wanted to see them. I felt like I belonged there," he recalls.
He describes his shifts as being fun with never a dull moment, quite different from his initial expectations
"The team here are so friendly everyone's happy and enjoys a good laugh. There is a lot of hilarity and we often find items of clothing that we run out and show each other. Especially the retro stuff!"
Paul has some words of advice for anyone at home recovering from an accident or medical event.
"If you have time, give some time. It certainly won't hurt you and you'd be surprised by just how much fun and enjoyment you can get from volunteering."
Paul Topp
St John
Interactive Volunteer Stories Map
This story was shared as part of our interactive map of volunteer stories from across Aotearoa, which we launched during #NVW2019. This map is filled with stories from volunteers throughout Aotearoa, New Zealand. This map celebrates the contribution of volunteers in their communities throughout Aotearoa. It aims to inspire people to engage in volunteering, Mahi Aroha and social action and to realise the benefits of weaving their communities together through their actions.