When I first arrived at Victoria University of Wellington from India, I didn't know anyone. As an international student, I was on the lookout for a community to join that I was both passionate about and could help me meet new people. I started to look at volunteer roles through the Victoria Plus Programme as a way to connect and make friends.
The IHC one-to-one friendship programme seemed like the perfect fit for me. I knew that I would be paired with someone who needed a friend and I needed a friend as much as they did. I was able to support my buddy with everyday tasks and have lots of fun. One day, my buddy wanted to make Nankhatai (an Indian biscuit) but the problem was I had never made it before! We tried it together and everyone in the centre loved it.
Another volunteer opportunity that caught my eye was the Fruit and Vegetable Co-operative at Victoria University of Wellington. The Co-operative distributes fresh and affordable produce across the University's campuses each week, contributing to a healthy food environment for staff and students. The Co-operative could not function without the support of its volunteers, who help collect, pack and distribute orders.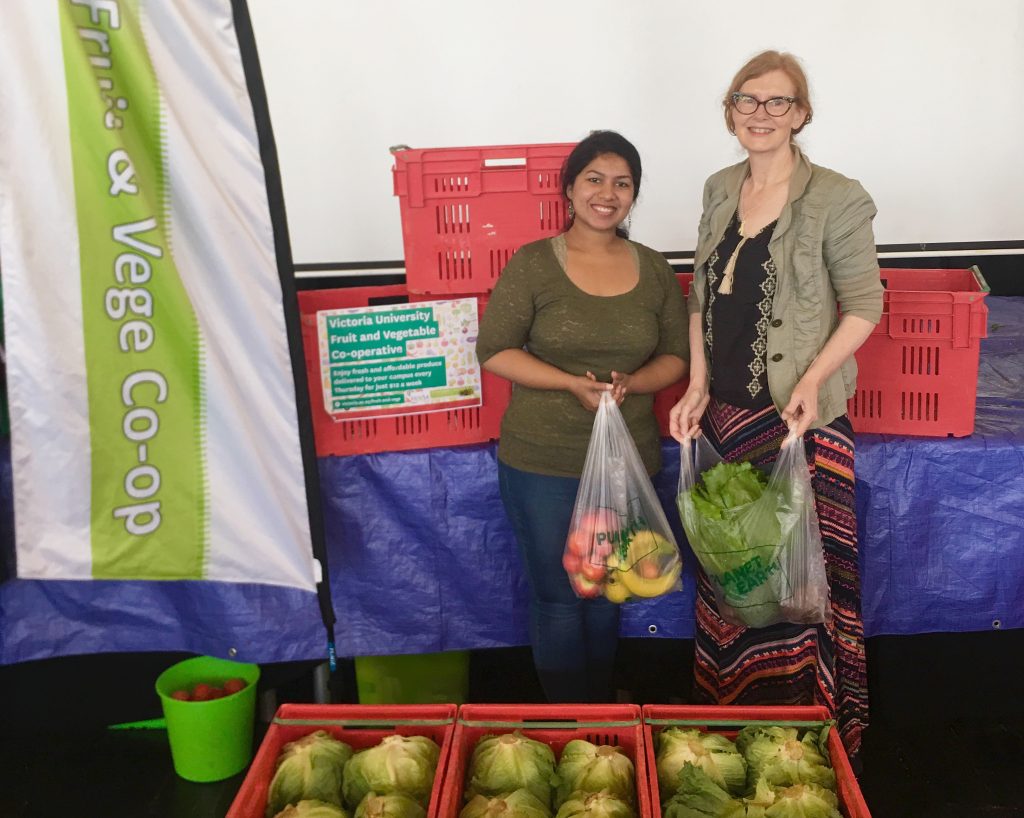 Volunteering is not a job that you have to do. It's something that you are so passionate about that you want to do it. I joined the Fruit and Vegetable Co-operative as a volunteer because I understand the important role accessible fresh fruit and vegetables play in health and wellbeing. Put simply, I believe in what the Co-operative stands for.
My first volunteer role was as a packer. Fruit and vegetable orders are packed up for collection every week – we unload the produce from the delivery trucks, set up the tables, and pack all of the orders ready for collection by our members. The pack out reminds me of a movie in which Santa's elves in the North Pole worked together to pack Christmas gifts for children. There's a real sense of excitement as we work together as a team, enjoying ourselves throughout the process. We play music, we chat, we are one big diverse community.
After some time as a packer, I became the Pack-out Coordinator and then later moved on to do the accounts, which complemented my studies in Accounting.
My other volunteer roles included being a Buddy for International students and a Residential Assistant at the University's Willis Street Hall. In these roles, I was able to share my own experiences with other international students new to New Zealand. I also volunteered for Trade Aid because, being from India myself, I have seen the problems that small-scale artisans face when it comes to selling their produce and I really wanted to be able to support them in any way possible.
My volunteering helped me achieve the Victoria Plus Award alongside my Master of Professional Accounting. This was great recognition for doing something I enjoy.
Ankita Parmar
Victoria Plus Programme

Interactive Volunteer Stories Map
This story was shared as part of our interactive map of volunteer stories from across Aotearoa, which we launched during #NVW2019. This map is filled with stories from volunteers throughout Aotearoa, New Zealand. This map celebrates the contribution of volunteers in their communities throughout Aotearoa. It aims to inspire people to engage in volunteering, Mahi Aroha and social action and to realise the benefits of weaving their communities together through their actions.