My name is Solf Maifea. I have been volunteering for the better part of 23 years. I began in 1995 as a Fire Rescue Squad volunteer for the company I was employed with at the time. I served for seven years. I liked that I could contribute to my fellow workmates and I also appreciated the courses and skills I acquired along the journey.
From 1996 to 2010, I volunteered for my local council's Civil Defence team, where I was one of over 3000 members. Since I was already on a Fire Rescue Squad, I wanted to tackle a more softer, behind-the-scenes role, something more in the welfare service arena. Manukau Civil Defence was the most memorable experience I've had, as I met so many people of all ages and ethnicities. The skills I attained along this journey had me managing a welfare centre during the Christchurch earthquake, and I even got to meet the Auckland Mayor of the day.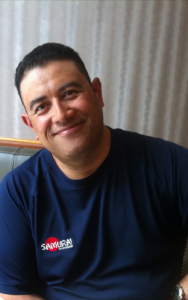 If I was asked what was my most valuable and precious experience, it would have to be volunteering as bingo caller for residents at Erin Park Retirement Village in Manurewa, Auckland, between 2014 and 2015. The lovely souls I encountered there touched my mind and my heart. I would be tired from working eight hours at my day job, then I would go call bingo for three hours once a week. The people were amazing: funny, engaged, cheeky and lonely. I miss them.
I currently volunteer as one of eight trustees for the Manukau Beautification Charitable Trust. My service now puts me on a boardroom table once a month, collaborating with peers to help with the management of the trust. This amazing organization affects ratepayers and community members of all ages, by engaging initiatives and programmes such as the annual 'Eye on Nature' family day.
My journey of volunteering is not a fantastic sojourn of amazingness and wonderment, but it's the most precious and important thing in my life. Balancing work and family commitments gives me a limited amount of time to serve, but it is the constant in my life and always centres me mentally and spiritually. I implore you, if you are not already, to begin volunteering. Knowing you are helping others will connect you and make you feel part of something bigger and you will meet so many other likeminded people you would never have met otherwise.
Solf Maifea
Manukau Beautification Charitable Trust

Interactive Volunteer Stories Map
This story was shared as part of our interactive map of volunteer stories from across Aotearoa, which we launched during #NVW2019. This map is filled with stories from volunteers throughout Aotearoa, New Zealand. This map celebrates the contribution of volunteers in their communities throughout Aotearoa. It aims to inspire people to engage in volunteering, Mahi Aroha and social action and to realise the benefits of weaving their communities together through their actions.