Bev Verner volunteers as a Caring Caller for St John in Whitianga. She explains how she got involved and why she enjoys volunteering.
Tell us a bit about yourself. 
I was born in Christchurch but I've lived in Whitianga on and off for about 40 years. I'm married and have two children who are all grown up. In 1995 I was diagnosed with Retinitis pigmentosa and I lost my sight in 2002. I have a great guide dog called Fergie, who gives me the independence to go out and about. I've been retired for some time and I'm involved in an art group run by Coromandel Independent Living Trust. I have been creating mosaics with tiles for a few years now.
Tell us about your volunteer role with St John. 
I am a St John Caring Caller, which is a free telephone service for people who live alone or feel a bit lonely. I have regular conversations with two ladies who live in different towns. I call one of them every day and the other once a week.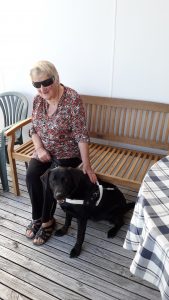 How did you get into volunteering with St John? 
There was an advert on the radio asking for volunteers for Caring Caller. My daughter heard it and said, "That's something you can do Mum." That's how it all started. I signed up and have been involved ever since. I've been volunteering as a Caring Caller for 15 years.
Why do you volunteer for St John?
This is something that I can do. There are not many things I can do by myself but this is one. Both ladies I call live on their own and I can tell that it helps when I call them. I know that regular phone calls make a difference.
What have you gained from being a volunteer? 
I like being able to help others – I feel satisfied knowing I'm helping other people. It's about giving back because everybody around me is always helping me.
Please share a memorable moment or event in during your time as a volunteer. 
There have been so many moments when I've called someone when they've been feeling really down and after talking to them for a while on the phone, they eventually come out of their shell and by the end of the conversation they're laughing.
Would you recommend others volunteer for St John and why? 
I do recommend volunteering with St John. It's very satisfying knowing you can help somebody and it really makes a difference.
Bev Verner
St John Caring Caller
Interactive Volunteer Stories Map
This story was shared as part of our interactive map of volunteer stories from across Aotearoa, which we launched during #NVW2019. This map is filled with stories from volunteers throughout Aotearoa, New Zealand. This map celebrates the contribution of volunteers in their communities throughout Aotearoa. It aims to inspire people to engage in volunteering, Mahi Aroha and social action and to realise the benefits of weaving their communities together through their actions.