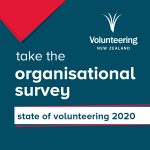 Volunteering New Zealand (VNZ) invites you to complete our survey of volunteer-involving organisations to gain a national snapshot of the current state of volunteering in New Zealand.
This survey is aimed at organisations. Completing this survey enables VNZ to be your voice on volunteering. Your input will help us identify key issues and trends arising in the sector. A report on our findings will be published in 2020. Take the organisational survey now.
Who is this survey for?
If your organisation involves volunteers we encourage you to take this survey. You may be part of a senior management team, manager of volunteers, board member or paid staff member working alongside volunteers. A number of people from the same organisation can take this survey. This survey is not for volunteers (we will be sending out a survey for volunteers at a later date).
Notes:
1. Individual results of this survey will be treated confidentially.
2. This survey should only take up to five minutes of your time.
3. We would appreciate your response by 15 December.
4. If you have any questions please email survey@volunteeringnz.org.nz.
5. Thank you for your participation!
State of Volunteering Reports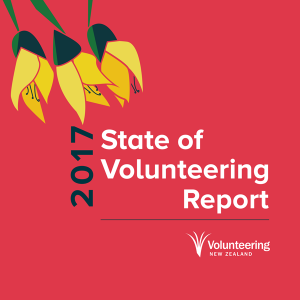 Following on from our research in 2017, 2016 and 2015, information gathered will support policy and strategy that directly supports our members and the voluntary sector by identifying current trends, issues and challenges.
The 2017 State of Volunteering Report was the third in VNZ's series of reports. It helped us identify the following workforce issues and opportunities:
Time-poor population
A need for organisational, community and national recognition
Age-related concerns – a variety of theories, experiences
Funding issues.