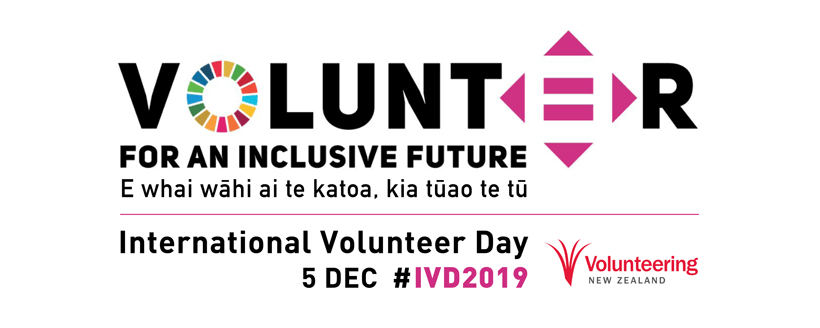 We've selected some of our favourite International Volunteer Day ideas to help you recognise and celebrate the day on 5 December! Pick and choose the ones that are relevant to you.
Who can take part in IVDay 2019? Everyone! Whether your organisation involves volunteers or not, IVDay 2019 is an opportunity for everyone to acknowledge this important day. We all see the value in volunteering to promote inclusion, diversity, non-discrimination and volunteerism as a mechanism to reduce inequalities in society.
IVDay 2019 Theme – 'Volunteer for an Inclusive Future – E whai wāhi ai te katoa, kia tūao te tū'. This theme should provide the basis of all your IVDay activities. Ideally demonstrating volunteerism empowering people to participate in their own communities, fostering inclusion, volunteering promoting inclusion, diversity, non-discrimination and volunteerism as a mechanism to reduce inequalities in society.
SDG10 – The campaign theme for IVDay 2019 is focused around SDG 10 and the pursuit of equality – including inclusion – through volunteerism. We encourage you to learn and share about SDG10 and its importance.
UN Volunteers – IVDay is run by UN Volunteers. Keep up to date with the latest news and updates by following them on Facebook.
IVDay resources on social media – Use IVDay resources, such as a Facebook cover photo, poster, logos, etc.
Collaborate – contact your local community groups to create a combined IVDay event or celebration (shared effort, more impact!).
Morning tea– pink coloured cupcakes to match the SDG10 branding!
Thank you cards for your volunteers – even better if they're hand-made.
Certificate of recognition – IVDay certificates can be downloaded here.
Create videos and slideshows – share volunteer stories and celebrate their efforts!
Volunteer recruitment events – IVDay raises the volunteering profile in New Zealand so it's an ideal time to boost awareness about your volunteer roles! Consider creating a volunteer recruitment advert via Seek Volunteer or your local Volunteer Centre.
Mahi Aroha Poems – give your volunteers a poem acknowledging the impact they have. Here's one we like: 'He aroha whakatō, He aroha puta mai' 'If kindness is sown, then kindness you shall receive.'
Good news stories – contact local and national media with stories about your volunteers (even better if told from the perspective of your volunteers).
Ask your volunteers – if you want to really do something your volunteers will appreciate, perhaps give them options to choose from regarding how they'd like to be acknowledged.
Reflect on your organisation's volunteer programme – The IVDay theme provides an opportunity for us as a volunteering community to commit to building meaningful, enduring and inclusive relationships across our differences, and to make space for diverse voices. Check out our Te Rautaki mō Whanaungatanga: A National Strategy to Support Volunteering for Recent Migrants or this resource Creating an inclusive volunteering environment
Contact your local Volunteer Centre – Volunteer Centres throughout New Zealand do a fantastic job of hosting IVDay events or knowing about IVDay celebrations in your region.
Join us this International Volunteer Day to champion the impact volunteers have in communities, nationally and globally. #volunteer4inclusion #IVD2019