Seeing smiles on the faces of children living with cancer makes everything worth it for Jennifer Jin Ma.
The University of Auckland alumna volunteers for the Summer Children's Foundation, a charity that organises fun activities for kids undergoing leukaemia treatment. She visits hospitals in Beijing to run the programme.
Jennifer says volunteering allows her to provide joy and laughter in times of need.
"These little gestures create so much happiness in the lives of children that are unable to go outside or engage playfully as other children would due to their conditions."
The kids regularly hand-make her presents to express their gratitude. Jennifer finds this very moving.
"Often after class, they make me little Playdoh flowers or pens and gift these to me as a 'thank you.' I have a collection of these and it always warms my heart when I see them."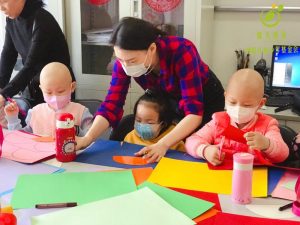 When she initially met the children, Jennifer was amazed by how resilient they were.
"The first time I volunteered, I expected to be greeted by families who would be very emotional or sad. What was so memorable was their positivity. They were so strong and grateful that their child had a chance to survive. It was very touching to see such strength."
Jennifer encourages others to get involved with volunteering.
"There is something wonderful about taking the time out of our busy lives to step outside of our own world and engage with volunteering," she says. "Too often, we think that what we do doesn't or won't make a difference. But in my experience, more often than not our actions will trigger a snowball effect amongst the people close to us and our local community. Nothing is too little to contribute."
Jennifer's advice to others thinking about volunteering is to simply give it a go.
"Find an area that you are genuinely interested in and then just try it. There is no greater feeling than to know you are making a difference in this world."
Jennifer Jin Ma
Summer Children's Foundation
Interactive Volunteer Stories Map
This story was shared as part of our interactive map of volunteer stories from across Aotearoa, which we launched during #NVW2019. This map is filled with stories from volunteers throughout Aotearoa, New Zealand. This map celebrates the contribution of volunteers in their communities throughout Aotearoa. It aims to inspire people to engage in volunteering, Mahi Aroha and social action and to realise the benefits of weaving their communities together through their actions.