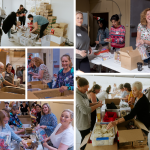 Volunteers are the lifeblood of One Mother to Another.  In the past year, 123 people have generously donated their time, skills and expertise to help us provide thousands of care packages for parents and whānau (primarily mothers) in hospital with their sick child/ baby.
Whether it be writing handwritten notes of encouragement, flexing muscles at a packing day, skilfully crocheting hearts, knitting blankets or donating their business nous and big picture thinking around the board table, our volunteers have gifted more than 2500 hours to the organisation in the past year alone.
There are so many skills reflected in our volunteer community and we need and appreciate every one of them.
We also know that our volunteers love being part of One Mother to Another's story too.  Many are past recipients of our care packages, or know someone who received one and now want to help others who are in that same vulnerable position.  For many of our volunteers, being able to pay-it-forward allows them to write a second chapter to their hospital journey and turn a difficult experience into a positive one.
One volunteer Sally knows what it's like to have a newborn in hospital and now as a grandmother, that empathy spurred her on to become an essential part of our note-writing and packing teams.
She says, "The terror of adjusting to parenthood with a sick baby is never forgotten.  It's about lots of people doing a little bit to make a huge difference to families with sick babies and children in hospital."
Another volunteer, Catherine, says she is involved with One Mother to Another because "even though I can't be there to hold their hand, I can help by giving them something truly special to show those parents that they are loved and supported."
Our volunteers are so selfless and make a tangible difference to the life of a stranger in one of the most difficult seasons of their life.
A big shout-out to our following teams:
Our note writers
We are so incredibly thankful to have dozens of people write handwritten notes of encouragement each month.  So often we hear from care pack recipients how much the handwritten note inspired them and how it helped them not to feel alone.  An extra big thanks to Fiona who coordinates the team of superstar note writers.  She and her team are incredible.

Our packers
Every month a truly amazing team come together to pack hundreds of care packages, in the last year the team have packed an incredible 5,000 care packs!!
Our crochet and knitting team
These needle-masters put so much love into making crochet hearts for the parents in hospital and creating beautiful blankets to be given out to children needing some warmth.   Every stitch is made with so much love!
Our board
One Mother to Another is lucky to have leaders in their respective fields serve as board members in a volunteer capacity.  Their collective wisdom and passion is helping propel us forward so we can have the best impact in a moment of need.
To every One Mother to Another volunteer, we want to say thank you!  Every hour is greatly appreciated and we just want to say, "we see your efforts and greatly applaud them. You are helping to make a difference in someone's darkest hours!"