By Matthew Goldsworthy: Incoming Youth Board member, Volunteering New Zealand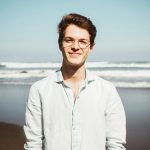 Young people across the world are demanding change. From School Strike for Climate to the Black Lives Matter movement, youth have clear aspirations for our future, and feel intensely the burden of the challenges we collectively face. It is perhaps not a surprise then that youth activism and participation in social issues is on the rise.
 However, young people's views and participation in activities that promote change are often seen in isolation on a news segment or at an awards ceremony, with no real pathway to systems-level change. There are also systemic barriers in place – such as risk of social conflict and self-doubt – that make it difficult for young people to contribute to these conversations if there aren't channels in place for safe communication of their ideas. It is up to us to bring young people into all conversations about our future, because this is their future.
Valuing lived experience
I've often heard people say that youth don't have enough experience when justifying why they aren't directly involved in decision-making processes. While that might be the case in the traditional sense of the word in which wisdom directly corresponds to age and career portfolio, more work needs to be done to expand our understanding of 'experience'.
In fact, my vote is to throw out the term 'experience' altogether and replace it with 'lived experience'. Lived experience is all about valuing perspectives not just because of status, but rather by diversity of thinking and unique positionality. This isn't to discount 'traditional' experience and wisdom, but rather view it through a different lens that invites participation from members of society that may not hold a position of traditional power or status. This is especially important when considering youth, most of whom haven't had the time or opportunity to pursue careers that might deem them valuable in more important discussions and situations, but who have exceptionally close connections to communities and social issues.
Young minds breed curiosity and innovation
Young people have an innate ability to advocate for a better world, free from the indoctrination of structure and hierarchies that are thrust upon us more and more as we grow older. This is where creativity thrives; a young mind is a space that breeds curiosity and innovation. Rather than thinking within the box, young people teach us how to imagine a better future beyond the boundaries we often subconsciously impose on ourselves and others.
From a business perspective, today's youth are hyper-aware of brand messaging, cultural climates and current trends, mainly due to the rapidly digestible information found on social media platforms like TikTok and Instagram. Organisations of all forms need to understand today's social climate – which is predominantly based in the digital world – if they are to stay relevant. Youth are perfectly positioned to advise on this due to their digital nativity, brand loyalty, consumer habits and close proximity to the fast-paced world of changing social attitudes and expectations.
By community, for community, initiatives
Here in Aotearoa, we are seeing young people more actively invited into positions where their unique lived experiences are not only valued, but prioritised. In 2019, Foundation North launched a rangatahi-led fund called the Pacific Youth Future Makers Fund, supporting projects that benefit Pacific communities in South Auckland and empower young people. More recently, 'Hear Me See Me' was launched – a campaign designed with and for young people to share challenges they've faced growing up in Aotearoa New Zealand and what did, or could have, helped them.
These are true 'by community, for community' initiatives that should be modelled across other sectors as an authentic way to empower young people to make decisions and create change that impacts their own communities. By providing rangatahi with a platform to create change with resources that are often inaccessible, such as access to professional networks and funding, we are reducing inequities within often hierarchical, top-heavy systems and promoting community-led impact. This is the future of social change.
Listen with an open mind
If you're a leader, an executive, a board member – anyone who has any form of responsibility – I encourage you to invite young people into your conversations. Whether it's in governance or in operations, ask their opinions and listen with an open mind. Embrace the curiosity and creativity that comes from working with youth. That's what we're doing here at Volunteering New Zealand through our Youth Working Group and youth board positions, and we hope that this will inspire others to invite youth to participate in their important mahi. Young people are already making waves and telling us what future they want – it's up to us to listen.
I am incredibly honoured to join the Volunteering New Zealand whānau as a youth board member, and feel the responsibility that this position carries. I look forward to working with communities across the motu to advocate for rangatahi participation in all aspects of mahi aroha; from local marae, sports centres and arts events to the boardroom.
Ngā mihi nui,
Matthew