With nominations open for the 2018 Minister of Health Awards, Volunteering New Zealand wanted to create some stories about previous winners – to celebrate the effort of these volunteers and inspire others to nominate for this year's awards.
Here is our second story on Eilish Wilkes, winner of the 2017 Minister of Health Awards in the Youth Volunteer category.
Twenty-one-year-old Eilish Wilkes loves adding value to the lives of others. She is also living with an irremovable brain tumour that has left her legally blind.
As a two-year-old, Eilish was diagnosed with a cancerous brain tumour. She still lives with it today and, although she suffers from migraines and lives with chronic fatigue and pain, Eilish makes time to share her remaining energy with others. She volunteers wherever she can and believes that, "if more people volunteered it would improves the lives of so many and make the world a better place".
"I know people are time poor with work and other things, but it doesn't take a whole lot. You can just do one small thing and it will make a difference," says Eilish.
Getting out there
Between hospital appointments and treatments, Eilish supports a variety of charities. Each year she helps CanTeen with their events and fundraising. Currently living in Taupo, Eilish is on the branch committee for the Blind Foundation. Last year Eilish and her faithful guide dog Loie ran in the Auckland marathon to raise money for the Blind Foundation Guide Dogs.
"That was beautiful," says Eilish, "it was such a wonderful thing to work towards".
Eilish helps the kids and horses at a local riding programme, Riding for Development. She fundraised for a recent Red Poppy appeal and is frequently approached by groups to speak about her life and experiences.
Recently Eilish and Loie visited the Taupo Brownies group that was studying service animals. She described the process that a puppy goes through to become a guide dog. "The Brownies were full of questions!" says Eilish.
"Anything that comes up, I'll give it my all. I'm open to possibilities. If there are people who need support or something that needs doing, I'll do it."
Giving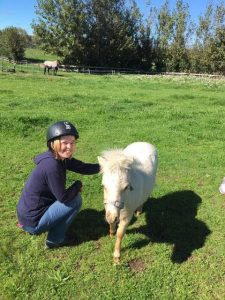 When she talks about volunteering, Eilish doesn't talk about giving back. She simply talks about giving.
"I want to give as much as I can, to as many people as I can," she says.
She attributes her attitude to her parents, explaining that together the three of them are a tight unit.
"We're all massively involved in charitable work and helping other people."
Her parents both began volunteering for the Child Cancer Foundation following Eilish's cancer diagnosis eighteen years ago.
Awarded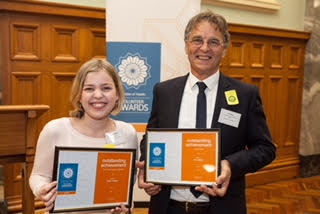 Eilish has volunteered for as long as she can remember. Last year, when she was nominated for the 2017 Minister of Health Youth Volunteer Award, she says she felt really touched.
"And I was absolutely stunned when I found out I'd won it!"
Eilish was nominated by the Child Cancer Foundation after helping with their events and fundraisers for years. She's hand-sewn quilts for newly-diagnosed families and delivered food to parents on the ward at Starship Child Health. Eilish had also written stories about the experience of going to hospital and donated 'Hospital Happenings' books to the Child Cancer Foundation.
Eilish's dad, Pat, was also recognised for his work with the Child Cancer Foundation over 16 years. He was runner up for the 2017 Long Service Award.
"We went to the ceremony in Wellington. At the time I'd been very unwell and they'd asked if I would be well enough to come to the ceremony. They said they'd really love me to be there, so we managed to get there and it was a really lovely occasion," remembers Eilish.
All the finalists were invited to the ceremony but Eilish was surprised when her name was announced as a winner.
"I was absolutely amazed. It took me a minute to put it all together and think 'oh my goodness that's me!'. It was really lovely."
Eilish is adamant that giving in itself is fulfilling, but was grateful to be thanked. The framed award hangs on the wall, next to a Youth Spirit award, in Eilish's craft room.
"These awards are reminders that I can make the future brighter for other people going through similar things as me," says Eilish. "That's all I can ask for really.
"No matter who you are it always feels wonderful to be acknowledged for the passion and hard work you put into volunteering.
"So if there's someone who is dedicated and hardworking and has devoted much of their time then absolutely you should nominate them."
Eilish says most volunteers are selfless and don't really expect anything in return so it's just lovely to be nominated.
If you're interested in recognising a volunteer or giving a team a lift, you can make a nomination for recognition by the Minister of Health. Nominations close Friday 18 May 2018.
Author: Jo Wilson