What motivates youth to volunteer?  The simple answer is to ask them – the answers may surprise you. Volunteer Kāpiti was invited to attend the Paraparaumu College Careers Day and talk about volunteer opportunities to a small group of students. We had one of the youngest elected local officials in the country talk to students about her volunteer experiences. Then we followed with what volunteer opportunities the school and Volunteer Kāpiti can provide. However, the real learning came from us hearing their voice.
In preparing for our talk, we assumed that a common volunteer motivation for students would be to gain work experience as well as helping with scholarship applications. During the talk we asked the students what would inspire them to volunteer. Students were encouraged to write their feedback on post-it notes under different poster headings. The most common response for their inspiration to volunteer was being able to make a difference, to help others and to make a positive impact for their community.  When asked 'What are you good at doing?'  Another common thread was helping people, being kind and listening. This links to what we have seen happening over COVID where the desire to help others motivated our local youth to provide organised support for people in self-isolation due to COVID.   When asked what stops them from volunteering the most common answer was transport and time.
Taking time to understand the motivations and barriers to volunteering for youth is important. The Volunteering New Zealand State of Volunteering Report (2020) notes an ageing volunteer workforce was an area of concern noted by many survey respondents as was the challenge of engaging with youth volunteers.
Volunteer Kāpiti's message is to listen to youth and to question your youth assumptions (even if you are like me and you have two teenagers in your home!)  You never know, instead of thinking your role is to inspire youth to volunteer – it might get turned around and they might inspire you instead!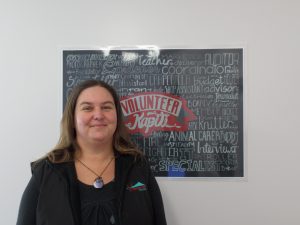 Susan Ansell
Volunteer Kāpiti