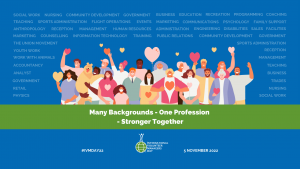 International Volunteer Managers Day (IVMDay) is held annually on 5 November. The theme this year 200 is Many Backgrounds – One Profession – Stronger Together.
Volunteer managers responded to the challenges of the last year with strategic leadership and created partnerships and collaborations to continue to thrive.
For some, their own health and wellbeing suffered as they kept their teams operating to support their communities.
Volunteer Managers are the key to successful volunteer involvement.
To mark IVMDay, we've selected our top six VNZ resources, tools and research to support managers of volunteers! Please share with any managers of volunteers that you know.
1. Lead Me
Maximise your volunteering leadership potential. Take this quick and easy assessment. At the end, we'll email you a status report, an action plan for change, and links to useful resources.
2. On-demand learning
Watch webinars on demand, including newly added topics for 2022: Pasifika unpaid work, youth participation in governance and skills from volunteering for job hiring. Our guest presenters are leading national and international speakers, exploring topics on volunteering to help you better lead, manage and develop your volunteer workforce.
3. Regional training and events
We collate upcoming training and events from across the motu. Many are online and free, giving you access to learning wherever you are.
4. Volunteers and the law
There are a range of laws that have implications on how organisations interact, treat and manage volunteers. We have collated information about employment, health and safety, volunteer rights and volunteer expenses.
We collate and continually update resources to support managers of volunteers and the governance of volunteer-involving organisations. These resources include practical advice and strategies from leading national and international organisations and contributors. See: https://www.volunteeringnz.org.nz/available-resources/
6. InvolveMe
InvolveMe is an online self-assessment tool that helps you make a great volunteer programme. Survey your organisation to get the best out of your volunteer programme! InvolveMe provides you with a broad set of questions that are then summarised into a smart and easy to understand report. This report makes it a breeze to self-identify where you or your organisation can improve its effectiveness.
Any questions about these resources?
Please contact us at office@volunteeringnz.org.nz.
About the 2022 theme
The theme for 2022 is: "Many Backgrounds – One Profession – Stronger Together". 
This theme conveys a strength the volunteer leadership sector possesses that we don't draw on enough… the huge and diverse range of backgrounds that volunteering leaders come from. 
On one hand – we come from a wide range of professional backgrounds. We are also made up of people from all walks of life and different cultural backgrounds. 
We believe that this diversity of backgrounds should allow us to think differently, we can find solutions together when we come at issues from different perspectives. As we all have different skill sets we should be able to collectively collaborate and use these more productively. 
#IVMDAY22 – Start promoting today.
Download: