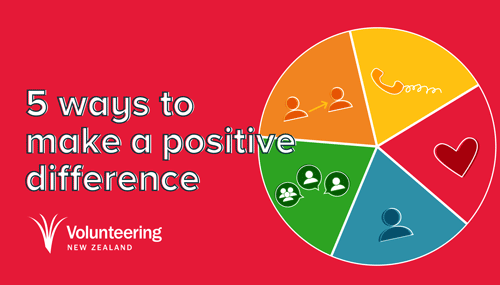 The power and potential of volunteering, Mahi Aroha and social action shines through at times when our communities are stretched and challenged. Here are five ways we can all help out. 
Please note: as the COVID-19 situation rapidly evolves we encourage you to keep up-to-date with the latest advice via covid19.govt.nz. This could mean some of the information in this blog will no longer be relevant.
In addition to health benefits, volunteering gives people a sense of purpose, especially at this troubling time. The fulfilling feeling of giving back and contributing to society is unparalleled. Giving back is also a great way to get to know your community and its citizens and to strengthen your community as a whole.
Community response powered by volunteers
People in our communities are already responding to the impacts of COVID-19 through informal, local mutual aid groups to support one another at this time. Help could involve activities from running errands to the shops, to making phone calls, to providing a friendly voice of reassurance.
It is also taking place through the many existing local charities and community groups that are already putting in place plans to ramp up trained volunteer support and finding ways to deliver services in different ways.
By working together we can reduce the curb of COVID-19 infection in New Zealand, and support each other to ensure that even if we are self-isolating, that we do not feel disconnected or isolated from our communities.
Kindness and connection can be sustained or given and received even when we are practicing social distancing.
Community Action Response – five things you can do:
The best way we can all help is to ensure we follow the Ministry of Health advice on staying healthy and self-isolating if unwell and looking after ourselves first. Once you are sure we have your own health in hand then we can look at how we support friends, whānau and neighbours to see if anyone in your local networks needs support.
Here are 5 things we can do, once we have looked after ourselves.
1. Think of others, consider your actions and be kind: People in every community will face the challenges of COVID-19 in some way – from needing basic provisions to help while they are unwell.
>> Be inspired by how small acts of kindness create global impact in this TEDX talk
2. Connect and reach out to your neighbours: As self-isolation increases, we need to find new ways to stay connected and check in on one another for our physical and mental wellbeing. Share phone numbers and stay in touch. Keep an eye on your elderly neighbours in particular, as they're at a greater risk of developing more serious illness as a result of the virus.
>> Learn tips and advice from Neighbourhood Support.
3. Make the most of local online groups: Keep up to date, share information and strive to be a positive part of your local community conversations.
>> Use platforms like Neighbourly.
4. Support vulnerable or isolated people: Different groups in our communities are at increased risk and social isolation and loneliness are key concerns for all ages. There are things you can do like volunteering for local support services or donating to food banks to help.
>> Student Volunteer Army has activated its pandemic response service to assist people in need – there is great advice on their website.
5. Share accurate information and advice: Support anyone who may be anxious about COVID-19.
>> Sign-post them to the correct advice from Ministry of Health and encourage people to follow the correct hygiene practices.
>> Share the COVID Alerts system [we are currently at level 3]
We are all in this together, and the more we look out for each other, the more resilient our communities will be in facing this pandemic and its implications. We want to hear what's happening in your communities – email us on office@volunteeringnz.org.nz and let us know.
He waka eke noa – We are all in this together.  #COVID19Kindness
Updated: 23/3/2020