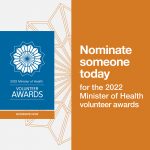 2022 Minister of Health Volunteer Awards
 The 2022 Minister of Health Volunteer Awards are open for nominations. These are a great way of recognising and celebrating individuals and teams of volunteers who freely share their time, energy and compassion to help improve the health and wellbeing of others.
Since they began in 2013, the Minister of Health Volunteer Awards have recognised 73 teams of volunteers and 116 individuals across our hospitals and communities. In total that's several thousand people demonstrating how individual commitment and dedication makes a positive difference to the lives of others.
This year a new award category has been added to our existing categories – COVID Health Volunteer – to recognise the great work by volunteers responding to the specific challenges of looking after people and helping to keep them safe during the pandemic.
The Long Service category has also been extended to team nominations so we can recognise the collective contribution made over many, many years by some of our health volunteers.
Categories for 2022 (Team and Individual) are:
Health Care Provider Service
Community/NGO Health
Māori Health Service
Pacific Health Service
Youth Health Volunteer
Long Service
COVID Health Volunteer
All nominees are formally acknowledged by letter and those considered worthy by a judging panel are presented with a certificate during an awards ceremony.
You can find out more about the categories and nomination criteria, along with previous recipients, at 2022 Minister of Health Volunteer Awards or email volunteerawards@health.govt.nz
Download the nomination form.
Nominations close on 3 June and we'll be celebrating this year's recipients during National Volunteer Week, June 19 to 25.