Statistics New Zealand released the Household Labour Survey data recently. One of the key findings was that part-time workers are the most likely to volunteer. We challenge the notion that full-time workers don't have time to volunteer. They probably just don't know what volunteering options are available…  
Time is no longer a barrier.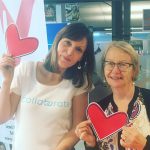 I recently chatted with our friends Holly from Collaborate and Aileen from Volunteer Wellington and reflected on how do you find the time to volunteer when working full-time? What even are the options?
Aileen and Holly enthusiastically agreed, time is no longer a barrier! They're both seeing and facilitating more flexible volunteering options, worked around busy schedules. A rise in demand from full-time workers, combined with a rise in need and understanding from charities that are looking for volunteers. It's a win-win.
"Collaborate was built exactly for this purpose to make finding your volunteering match fast, easy and fun! We know that many people feel they want to give back but can't make it fit around their busy modern lives, BUT this is no longer a problem. Many volunteer roles require your skills and time for as little as 1 hour!"
The fact that there are more options now is brilliant. One hour of your week may seem like nothing but to an organisation with limited resources it can have an incredible impact. Likewise, one hour volunteering in your community can have such a positive effect.
I don't have time to volunteer. What are my options?
One-off – at an event, baking day, etc
Short term – volunteering on a project for a short period of time
When available – some organisations are flexible around volunteers coming in when just they are available to do so
Virtual volunteering – working from home in the evenings, helping organisations with anything from social media, blogs and advocacy
Employee volunteering – businesses providing volunteering opportunities for their staff. At times, during work hours.
Employee Volunteering is growing and a really effective way for full-time workers to have the opportunity to volunteer, where they may not otherwise be able to. It can also help strengthen teamwork, job satisfaction, and loyalty.
Aileen adds, "Many workplaces are promoting volunteering by giving staff one paid day to be part of a team volunteering project. Volunteer Wellington coordinates these community projects with our business partners and teams undertake a variety of tasks, such as painting a school's fence; planting native trees with a local conservation group; and helping organisations move office!
These business teams made a real contribution to community organisations, and often develop long-lasting relationships with them."
Not all workplaces have employee volunteer programmes, sometimes due to simply not knowing about them. It could be a case of providing your employer with information about them.
The right fit.
Never underestimate the importance of the right fit when it comes to volunteering. There are some volunteer roles that simply require longer hours and some that don't. When choosing an organisation to volunteer for, be upfront about the number of hours you can do and get feedback from the organisation on whether it can work and what your options are.
Volunteering can be anything you want it to be, for however long you need. The impact you can have on your community through volunteering is irrespective of the number of hours you put in.
What are your experiences of volunteering while working full-time?
Sarah Macdonald, Marketing and Comms Advisor at Volunteering New Zealand.
VNZ Resources: